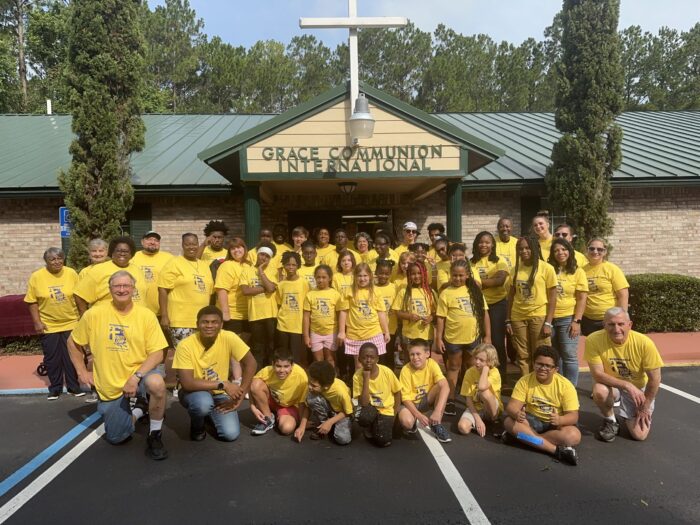 On June 15 – 17, Grace Communion Jacksonville hosted its third annual neighborhood youth camp. From 9:00 am – 7:00 pm, Thursday through Saturday, we hosted 34 campers ages 7 – 18. This year we had a 33% increase over last year. About half were first-time campers, and over a third came from the neighborhoods surrounding our church building.
Best Practices and Lessons Learned
Twenty-six volunteer staff members helped with counseling, food, and activities. We also had a nurse. For those considering starting a neighborhood camp, you can do it with less staff. But we prefer to have three counselors with each of our grouping of campers, which we organize into four groups: pre-teen girls, pre-teen boys, teen girls, and teen boys. Of course, the kitchen crew is important. We offer three meals a day, and we've learned we usually need around 4-6 volunteers for a camp of 50 or more.
Several other GCI congregations and ministries donated funds to help with the camp costs, and we're very grateful. It enabled some deserving youth to be sponsored and helped to cover the expenses of our offsite outings.
We've learned that the neighborhoods near our church are mainly positive towards churches and their members. So for us, it works well to have a spiritual focus. Each morning we start with breakfast, followed by a daily chapel service featuring praise and worship, and a prepared Christian message, with some interaction as well. Our three-year theme has been "God's Grace" and each year we have taught various aspects and applications thereof. This year's focus scripture was Titus 2:11-12 about how the grace of God has appeared and "teaches us to say 'No' to ungodliness and worldly passions, and to live self-controlled, upright and godly lives in this present age…" (NIV). All of this is shared within an atmosphere of love and acceptance shown for all the children, even when we do sometimes have to admonish them to show love to others at camp as well.
We try to offer a wide variety of activities so that no one misses out on having some fun, and two off-site outings (the zoo and water park). We also include exposure to a Christian movie.
For more information, check out facebook.com/cffjax. As an aid in planning for your own neighborhood camp, we would also be happy to share our schedule, curriculum, and job descriptions.
Marty Davey, Pastor
Jacksonville, FL, US