The following report is from Carribbean Mission Developer Charles Fleming.
Over the weekend of September 2–6, Pastor David Perry from Indiana and Pastor David Botha from Ohio accompanied me on a visit to our church and school in Haiti. Our members are doing well and have come a long way in restoring some form of normalcy to their lives following the earthquake. They are grateful for the prayers and other forms of support extended to them by so many in GCI. The knowledge that they are part of a denomination-wide community that cares for them means a great deal to them.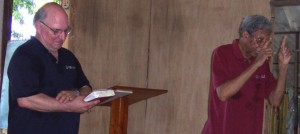 We had two goals for this trip: First, to be a physical representation of GCI to them. And second, to evaluate how best GCI members and sister churches can help the school be all it can be. What we experienced was far more than that. Mission trips can be times of heightened awareness of just how active the ascended Lord of all life continues his incarnated engagement with a sin-suffocated world. This trip was no exception, as Haiti has a way of laying bare the rawness of human need and resilience, on the one hand, and God's love on the other. Here are a few reflections on what we experienced.
We were privileged to meet a few expatriate businessmen and missionaries. We were struck by their deep respect for the Haitian people. They acknowledged how hard it is to live in Haiti—with its weak governing structure, corruption, crime, inefficiency, etc.—but most of their conversation focused on the strength and resilience of the people. They put into words what I have felt on each of my visits over the past 20 years. Haitians highlight the fact that God made us in his image. In my view, many Haitians are living representatives of the way the Lord of Life always finds a way to let life win! No matter what God's created children do to separate themselves from him and his true life, he finds a way to turn our death-wish into life. No matter what happens in their country, people in Haiti pick themselves up and move forward with a nobleness of spirit that always surprises and inspires me.
Our little church of 15 members demonstrates this resilience. Pastor Joseph Franklin and the school staff are ready for the new school year, which should have begun during our visit, but schools have been ordered to remain closed until a new Minister of Education is appointed. Undaunted, they continue to enroll students, expecting at least 150. They also persevere in the face of minimal infrastructure support. Like most Haitian institutions, they have back-up generators because of frequent power cuts. In a state where the government cannot provide adequate security, they have adjusted to a new rhythm of life where they are home before sundown.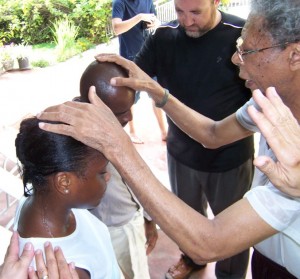 We got to see how God adds to our little family in Haiti. We participated in the baptism of Cassandre Naval, daughter of Andre and Maggie Naval, who are leaders in the congregation. Jean Desravines, who lives at the school and serves as a watchman, was also baptized (picture at right).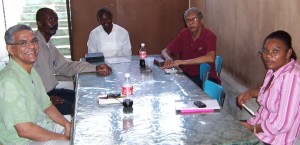 I sat in on a meeting that Pastor Franklin had with leaders from a group of 30 churches that would like some form of affiliation with GCI (picture at left). Mr Franklin was invited to speak at the group's upcoming annual convention at the end of this month. There are also plans to continue meeting to discern God's will for them.
We became friends with two young Danish men who are back-packing around the Caribbean and Latin America. They were staying at the same hotel we stayed at and decided they wanted to experience Haitian life from our perspective as church pastors on mission. So they came to both of our church services (picture below), attended the baptism ceremony, ate most meals with us and engaged us in conversations about life and spirituality.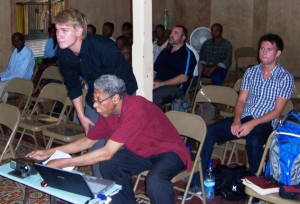 I was impressed by the growing passion for, and expertise in, mission within our denomination. God clearly is building a movement for mission that is both bottom-up and top-down. The top-down impetus is seen in the way our leaders emphasize and promote mission and set up basic systems and structures to encourage it. The bottom-up impetus was well represented by Pastors Perry and Botha.
I conclude with a few prayer requests.
Please continue to pray for our members, their safety as well as for God to provide for their needs.
Please join us in praying for God's guidance as to what he wants to come out of the conversations about possible affiliation with the group of 30 churches.
Pray for the national leadership that, for example, there could be a new Minister of Education appointed soon.
David Perry and Jeff Snyder (pastor of our Savannah, Georgia congregation) are planning two trips to Haiti over the next eight months to upgrade the school. Pray for all the planning and especially for their safety.
Join us in giving thanks for the recent baptisms and blessings such as the fact that Daniel Naval (brother of the young lady baptized) recently won a full scholarship and is studying in France and is now part of our church in France.