Philippine members gathered at Teachers Camp, September 21-25, for Festival 2011 with the theme, Growing Together in His Love. The celebration began with an evening service. Andrew Teng, pastor of Glory to the Lord Fellowship (GCI Quezon City) encouraged the audience to know that God loves them, to receive God's love, to offer it and walk it. Other services (all held in the morning), included sermons from Gil Llaneza, the pastor of the Manila congregation. He discussed how GCI's Trinitarian theology informs how we approach evangelism. In another service, Philippine national director Eugene Guzon spoke on God's love as the foundation of the identity and activity of the GCI Philippine church.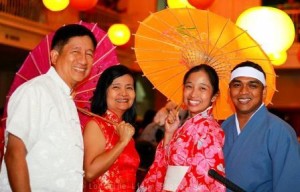 Festival activities included a lunch for seniors, and a forum on Trinitarian theology led by Pastor Len Joson. There was also a time of fellowship and challenging games for pastoral teams and other congregational leaders. After one service, participants enjoyed a lunch provided by the Crossway congregation's men's group. After the lunch, members from the Manila South church, and teachers and staff from the Ambassador School for Children gathered the children for fun, games and Christian lessons. Santa Rosa church leaders hosted the teens and singles in a GCI version of The Amazing Race. That night, a dance was held, with participants dressed in Asian attire.
The members are looking forward to next year's festival when they will celebrate the 50th anniversary of the beginning of GCI's presence in the Philippines.