Dear brothers and sisters in Christ,
As I look over the list of activities and events that we update you on this week, I notice that the reports come from so many different places. When you check the various links (and see the note below concerning links) you can read about a convention we just held in Ghana, a report of a camp in the Rocky Mountains, a festival in the Philippines and a Ministerial conference in New Zealand. The sun literally never set on these activities.
It is always exciting to see the different ways our International church seizes opportunities to reflect the life and love of God, both within our own fellowship and out to the wider world. I think this is a powerful reminder that God is the God of all human kind, whoever and wherever they are. It is our privilege to be among those who represent him and reflect his love – worldwide, 24/7.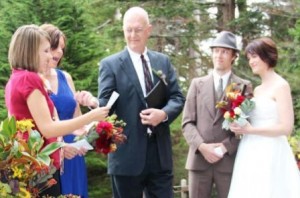 One of the ways we experience and express God's life and love is in the bonds of marriage. Ted Johnston, who serves on the U.S. Ministry Development Team and also coordinates production of GCI Weekly Update, recently officiated at the wedding of his son Joe Johnston to Carey (Graeff) Johnston. The couple, who live and work in San Francisco, were married recently on the Pacific coast near Gualala, CA. Congratulations to Ted and his wife Donna and to Joe and Carey!
I pray that you experience God's rich blessings of love in your family relationships, and if some of those relationships are fractured, that you will experience God's gift of reconciliation.
Love from my family to yours,
Joseph Tkach
Please note: The GCI Weekly Update email is sent to all U.S. pastors, and mission developers and national directors outside the U.S. Those whose email systems disallow active (hot) links, can access the full content of each issue (including my letter) at https://update.gci.org/.