The following report is from John Halford.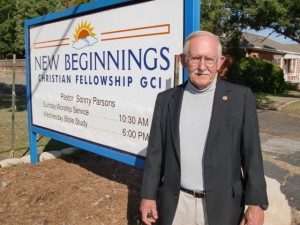 When Ambassador University in Big Sandy closed its doors in 1997, the local people might have thought they had seen the last of our church. Only a small congregation continued to meet in the area, pastored from neighboring Longview.
Then in 2002, Sonny Parsons and his wife Jane asked to be transferred back to Big Sandy. They had worked on the campus, and wanted to make Big Sandy their home. They decided that the church would once again become a presence in this rural Texas community. Not as a beautiful, but perhaps rather mysterious, college on the outskirts of town, but as a lively church that would be a blessing and a light to the local community. So they bought a building in the middle of town, renamed the congregation "New Beginnings" – and began again.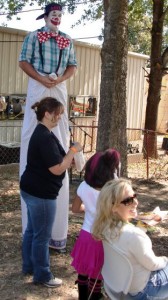 Last weekend they held their annual Fun n' Fall festival day, in which they invite everyone who lives in this small Texas town to enjoy a day of free fun and entertainment. Sonny had invited me to come as guest speaker. Saturday October 29 was a beautiful day, unseasonably warm, with clear blue skies. The church members had been preparing for several weeks, and some were on site at 3:00 AM preparing.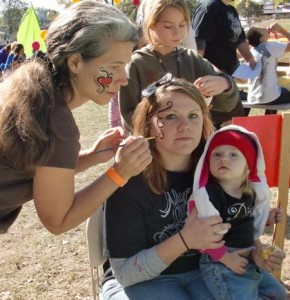 The day began with an "all you can eat" breakfast of waffles and sausage – then followed several hours of fun. There were face painting and games for the children, and competitions, free hot dogs and drinks for all.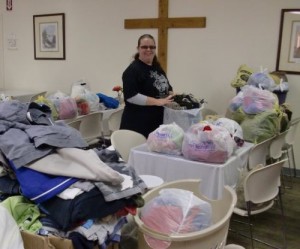 Several tables were set up, laden with surplus clothing, free for the taking for any in need. A highlight was the BSKCAR (Big Sandy Kids) car races, in which children (and some adults) tried their skills in some gravity fueled Go-karts. White Chocolate, a praise band from neighboring Longview donated their talent to provide several hours of live music.
Over 500 people, or about one half of the town and surrounding community came to enjoy the day with us. Especially noticeable was the number of teens and young people. These were not just day visitors, taking advantage of some free food and entertainment. Sonny explained that whereas the regular Sunday service usually had around 55 mainly older people, a Wednesday night Teen Bible Study often had as many as 60 young people show up regularly.
The Big Sandy members have determined to make their church a benefit to the community. They allow responsible groups to use the facilities free of charge, and something seems to be happening every day of the week. The local Rotary Club holds their meetings there.
From the moment he arrived, Sonny Parsons became involved in the community. He served for two years as mayor, and has twice been selected as Big Sandy's Man of the Year. He has also been president of the Ministerial Alliance. As a qualified paramedic, he continues to play a leading role in the local Emergency Response Team.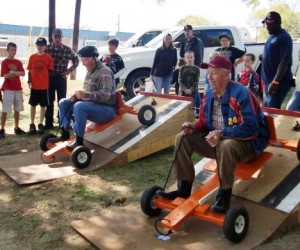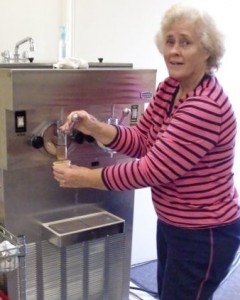 When the University closed, many of the employees remained in the local area. I was able to meet up with some of my old friends and colleagues, some of whom I had not seen for many years. They are older now, and some are retired, but they still play an active part in church life.
Melven Allen once managed the Ambassador College Transportation Department. Now he supervised another fleet – of Go Karts for the downhill race. Mel's wife Ivirne was dispensing frozen yogurt from the venerable machine that had once been a popular feature of the old SEP camp at Orr. Glenn Roberson, renowned at SEP Orr for his culinary and baking skills was still at work grilling hot dogs, assisted by veteran pastor Kelly Barfield. Another retired pastor, 84-year-old Ken Swisher, who was instrumental in starting the College, was visiting for the day. Dr. Bill Stenger, formerly registrar of Pasadena and Big Sandy, lives nearby, and is a regular speaker in the surrounding congregations. Rick Peterson (of Young Ambassadors fame) and his wife Lois (Weber) Peterson and their family are active in promoting teen activities. Lee Pettijohn, who was chief engineer for the Television Department, and his wife Vivian have built their dream retirement by the railroad. Not everyone's dream location, perhaps, but the Petttijohns are railroad buffs and enjoy sitting on their front porch watching several dozen freight trains rumble by every day.
For some of us, visiting Big Sandy is inevitably a nostalgia trip, but a very positive one. Rather than dwell on the past, the Big Sandy congregation decided to become a bright, active part of the local community. One theme emerged as I talked with old friends and colleagues. The past is the past, what has gone is gone. It was fun and rewarding while it lasted, and we built many good memories and relationships that will last a lifetime – and beyond.
However, we agreed, if only we had known then what we know now.