This update is from Joseph Franklin, the pastor of GCI's church in Haiti, which sponsors a school.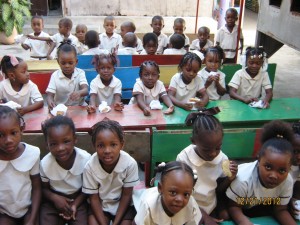 We request your prayers for the safety of the teachers and children in our school here. They need protection against kidnapping! Recently, God saved us from what appeared to be a kidnapping attempt in which the kidnapper was demanding from the school master a ransom of $60,000.00 (USD). Due to risks like these and the constant fear of earthquakes, we have only 134 students, though we can accommodate 200. This is causing us financial difficulties. The devastation caused by the January 2010 earthquake still greatly impacts daily life here.
Despite trials, the work of God advances. One of our youths, Jephte Jaques, recently received Christ as personal Savior and requested baptism. We just finished constructing a baptismal pool inside the school building. Jephte is part of a group that attends our Bible study series on the triune nature of God.