This update is from Doug Johannsen, GCI district pastor and Snowblast camp leader.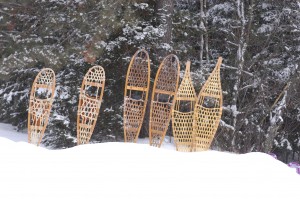 This year, Showblast brought the gospel and fellowship to a diverse group of about 30, ranging in age from 70 something to pre-school.
Since 1997, there has been a winter youth activity in Minnesota called Snowblast. This year it was held at Camp Chicagami near Evelyth, Minnesota. It lasted from noon Saturday to Monday morning, and was led by Pastor Tom and Sandy Kennebeck (from Orr, Minnesota) and Pastor Troy Meisner (from Rochester, Minnesota who also directs Northern Light summer camp).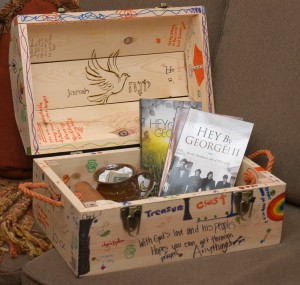 Snowblast was begun by Jeff and Sarah Skrove. They were unable to attend this year due to the condition of their 16-year-old son Jonah who is recovering from amputation of his lower right leg due to bone cancer. Using internet video conferencing, we included Jonah and his family in one evening of the camp. Everyone participated in decorating and filling a "treasure chest" for Jonah (see picture at left).
Outdoor activities included ice fishing, snowshoeing, sledding and hiking. Ice fishing was challenging due to high winds and cold temperatures. Still, the fishermen pulled up a couple of sunfish through the 24 inch thick ice.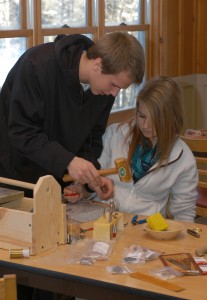 Indoor activities included worship, decorating and filling Jonah's treasure chest; making pottery, baking lefsa, leather tooling and making jewelry out of polished rocks. Messages during worship were given by pastors Tom Kennebeck, Troy Meisner and Doug Johannsen.
Monday morning we couldn't get the three outdoor thermometers to agree whether it was -29 F, -24 F or -23 F (they must be theological thermometers!). All vehicles but one started and after a couple of shots of ether it was up and running too.