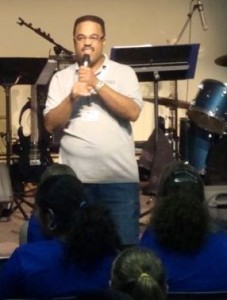 Todd's parents began attending the WCG church in Peoria, Illinois in 1965 when Todd was three months old. They had been listening to Herbert Armstrong on radio and reading The Plain Truth magazine for years.
Todd and his family lived in Davenport when he was young. He grew up a "south paw" when teachers were still trying to turn left-handed kids into a right-handed kids. "Because my parents were 'enlightened,' and also because I finally got a sympathetic teacher in the second grade, they failed to change me into a righty."
Todd said he drifted around a lot regarding his beliefs during high school. "About a year after I graduated from high school I decided that I had drifted around long enough. Though I had never stopped attending church, I hadn't really committed myself. In that brief period after high school, I witnessed several people who were close to me abandoning church altogether as they spiraled out of control. It was a wake-up call to follow God's path and not man's. I was baptized at my parents' house as they looked on, greatly relieved."
It was shortly after this that Todd moved to Southern California. "I spent five years in San Diego trying to pursue an education, hoping eventually to attend Ambassador College in Pasadena. I got pretty thoroughly sidetracked just trying to earn a living. Eventually I moved back to Davenport and paid off all my California debts before finally getting accepted at Ambassador in Big Sandy. After completing my degree there and becoming a staff member for two years, the University closed in 1997. I looked for work in east Texas and Dallas but eventually moved back to Davenport to care for my father who was in the early stages of Alzheimer's and Parkinson's diseases.
Todd was attending the GCI congregation in Davenport when he became part of its pastoral team. "I was commissioned along with John Anderson and Dana Loter in 2008 by Karl Reinagel. Our pastor John Bailey retired that year and moved from the area."
Todd said being a pastor fits in with his natural gifts. "I'm a fairly open, friendly, straightforward kind of guy. Most people get to know me quickly." He loves that being a pastor keeps him in God's word. "I'm constantly on a learning curve. I know that I'll never know it all; there will always be a new revelation just around the corner." What he loves about GCI is that it's "an organization that is also learning constantly. We are not afraid to make changes when they become clear to us."
When asked about his most memorable moment as a pastor, Todd said, "Thus far, the most memorable moment was baptizing my nephew. It was an absolutely clear and beautiful day and I couldn't see a thing for the tears in my eyes."
Todd said he feels closest to God, "when I'm alone and have shut off all the media around me and can begin a serious conversation with the Father. Usually after spending time in the Word."