This update is from GCI pastor Rick Shallenberger who recently visited Malawi and Ghana on behalf of GCI president Joseph Tkach.
Malawi: new church building dedicated
GCI-Africa mission developer Kalengule Kaoma (KK) and U.S. pastor Rick Shallenberger participated recently in dedicating a new GCI church building in Mbulumbazi, Malawi, just outside Blantyre (the new building is pictured below, left). In 2012, Rick preached at the congregation's former thatched meeting hall (pictured below, right) while visiting his daughter in Blantyre.
The congregation was planted in 2009 when community leaders in Mbulumbazi asked GCI to start a congregation there. They did so because they were deeply impressed by the compassion GCI members showed in caring for a terminally ill resident of their village who formerly attended a GCI congregation in another village, but moved to Mbulumbazi to be near family and medical care.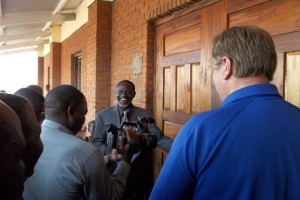 So in 2010, GCI purchased a small plot of land in Mbulumbazi and built a small thatched (grass) hut where worship services were conducted. Average attendance at the time was 35. But members desired a more permanent structure, so they constructed a building on the property in 2012, and average attendance increased to 55. They delayed official dedication of the building until pastor Rick could return. Those attending the dedication last month included the village chief and headmasters, along with chiefs from adjoining villages and leaders from other denominations. Total attendance at the dedication service (pictured below) was 255.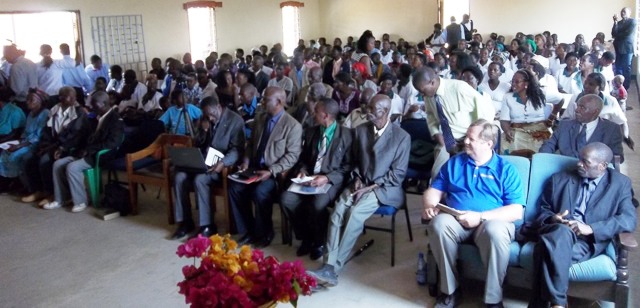 Malawi: leadership training conference
In addition to participating in the new building dedication, KK and Rick also conducted a two-day leadership training conference for GCI Malawi leaders (pictured at right). Rick opened the conference asking, "What does it mean to be in communion with God?" Discussing the related questions of "Who is Jesus?" and "Who are we in relation to Jesus?" led into a communion service.
In other sessions, Rick discussed how GCI theology affects mission and ministry. KK then discussed ministry in the African context, particularly with respect to church planting, leadership development and working with groups wanting to join GCI. Rick and KK also hosted a special dinner for the group on behalf of Pastor General Tkach.
Ghana: 40th anniversary celebration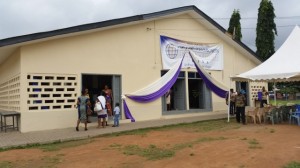 With the theme: Ebenezer: The Lord has been faithful and gracious to us, GCI-Ghana concluded a year-long celebration of its 40th anniversary with an eight-day festival at the church property in Kutunse, north of Accra. The property, which formerly served as the church farm, now is the location of a school and church hall (pictured at right) and hosts youth camps and other church events.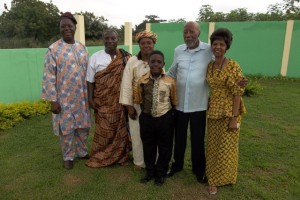 One of the highlights of the festival was the return of Ghana's first pastor, Abner and Sharon Washington (on the right in the picture at left with leaders from Ghana). Abner, now 90, said returning from the U.S. to Ghana was "a dream come true." He and Sharon are considered the "Dad and Mom" of the Ghana churches and received a beautifully worded certificate of appreciation and a number of gifts, giving them due honor. Abner gave two of the messages during the eight-day festival.
Each day of the festival began with 30 minutes of music and devotion before the start of the service. The two-hour service featured hymns, praise songs, dancing and choir music along with the messages. Following each service, Pastor Emmanuel Okai, director of Ghana churches, presented awards and gifts to various groups who have served over the years. Speakers included Abner Washington, South Africa mission developer Tim Maguire, KK and Rick. On the final "Thanksgiving Day," Rick greeted all on behalf of President Tkach and his wife Tammy and gave a message about our communion with the Father, Son, Spirit and each other. The 40th anniversary celebration ended with all participating in communion. Attendance averaged 500 a day with the peak of 604 on the final day.
Ghana: African national ministry leaders' conference
Twenty-seven African national leaders and pastors (pictured below) from Nigeria, Angola, Togo, Zimbabwe, South Africa, Kenya and Ghana, met in Accra, Ghana, from August 28 through August 31. These meetings were held in the afternoons and evenings following the 40th anniversary activities (see above). For many of the leaders, it was the first time they had met.

The meetings, which were conducted by KK, Tim and Rick, began with an address from Rick about our communion with the Father, Son and Spirit, followed by a review of the "Christ events"—Jesus' birth, death, resurrection and ascension, explaining the significance of each in our lives. Each national director then gave an update on his country. Here is a summary:
In Kenya, we have 16 congregations and many active ministries. Membership continues to grow, currently topping 1200 members. The challenge is finding appropriate places for worship and encouraging pastors to stay motivated.
In Togo we have one congregation and approx. 200 members. These numbers are down. The current project is building a social and medical center, which will not only be used for worship services, but also as a place to provide healing and a place to build relationships.
In Nigeria the attendance is just below 500. Nigeria is a very poor country, but God has blessed the church. There are many youth in Nigeria, and they are being connected to different areas to provide growth opportunities. They have just completed a new church building and are hopeful to build more so congregations have a base to work from.
Following these presentations KK, Tim and Rick covered various topics: theology, church planting, church development, mission/ministry, developing pastors, pastoral succession, African tradition/culture, finances, managing change, and questions and answers.
During the conference Rick and KK hosted a special dinner for the group on behalf of Pastor General Tkach. The conference, which ended with an affirmation exercise and prayer session, was a great success. Nigerian pastor Essien George summed it up well: "The last week of August 2014 is going to remain in my memory for a long time, because it was the week I had the opportunity to meet with Christian leaders, brothers and friends from GCI in other countries. I met many for the first time. It was a joyful experience that solidified the teaching and belief that we are all one in Christ Jesus."