We were saddened to learn of the death of Carol Schantz's mother, Margaret Allen. Carol is married to Steve Schantz who pastors GCI churches in Melbourne and Orlando, Florida. We received this announcement from Steve.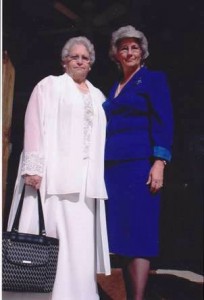 My wife Carol's mother, Margaret Allen, passed on Saturday evening, May 9 after a four-month-long battle with liver cancer. She was 81 years old and surrounded by her children and grandchildren at the time of her death.
Carol is spending time at her mother's home helping her brothers and family sort through and process the loss—it will take time for all of us. A host of friends and neighbors attended her funeral last week near her home in Springville, Alabama. As I glanced around the funeral parlor I recognized several former WCG pastors and members—ones who were friends of Margaret in the Birmingham, Alabama church: Bruce and Phyllis Gore, Rick and Angela Beam, and Dave Dobson. Her current pastor, Tom Kirkpatrick, delivered the funeral message, and it was my privilege to open with prayer and introduce special music performed by four of Margaret's grandchildren.
My wife Carol and I want to express our deep appreciation for your prayers for us and for Margaret's family over these past few months.
Cards may be sent to:
Steve and Carol Schantz
1799 Mallard Lake Rd
Viera, FL 32940-6768