We were saddened to learn of the recent death of Maurice Mallery, former WCG employee and father of Diane (Mallery) Kubik, wife of GCI elder Oleh Kubik. Here is a report from Oleh.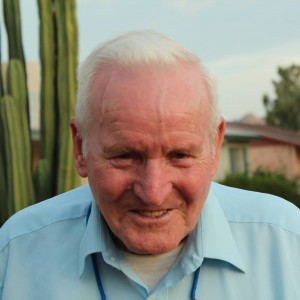 Maurice Mallery (pictured at right) grew up on the family farm in Windsor, New York where he became a successful potato farmer. Members of the WCG church in Manhattan (New York City) would come up on weekends to enjoy his farm. But due to some bad advice, Maurice lost the farm when he changed to organic farming without properly preparing the soil. He also lost his daughter Terry to appendicitis. Devastated, the family moved away to join the WCG construction crew in building festival sites in the Poconos (Pennsylvania); then Wisconsin Dells.
When that work ended, the family moved to Arizona, living first in a small trailer in the desert where Maurice worked laying water and sewer lines. Eventually they bought a small home, fixed it up, then sold it. They repeated that process several times, eventually buying a large RV and travelling the country. Though Maurice suffered many losses, he fought his way back.
Following a split in the church, he and his wife Carol traveled visiting various congregations of the group they joined. Eventually they settled in Florida. When Carol died, Maurice moved to New Jersey to be near family.
I fondly remember many great discussions with Maurice. Knowledgeable on multiple topics, he was always open minded and willing to learn. "It's what you learn after you know everything that counts," he would say. My life has been greatly enriched by this man.
Cards may be sent to:
Oleh and Diane Kubik
1150 Talan Dr
Endicott, NY 13760-7033