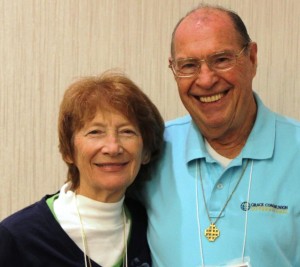 Ted Millhuff (pictured at right with his wife Lila), part of the pastoral team serving GCI's Grace of God Fellowship church in Tucson, Arizona, recently celebrated his 80th birthday three times! The first was at his home with family from Seattle, along with friends in Ted's neighborhood including some nearby church members. The second was at church, where Ted was honored with a potluck meal. The third time was on Ted's actual birthday (October 27) when a celebration was held with friends at an area restaurant.
Ted says that his life has been "quite a journey" and the best part of growing older is "learning and knowing the Source we need to lean on to keep on keeping on!"
Happy birthday Ted (and many more!).
Cards may be sent to:
Ted Millhuff
38076 S. Silverwood Drive
Tucson, AZ 85739