We were saddened to learn of the recent death of Ed Graham, former WCG/GCI employee and husband of Sheila Graham, also a former WCG/GCI employee. Here are excerpts from notes we've received.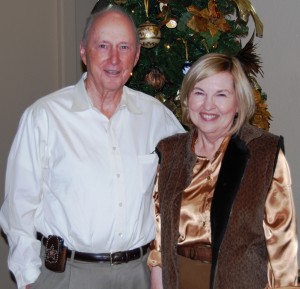 Ed died peacefully at his home in Lake Kiowa, Texas, on December 28, 2015. Though his body was weakened from cancer, he stayed positive and hopeful to the end.
Ed was born in Arkansas in 1929, the oldest of 12 children. Along with his family, Ed worked long and hard on the family farm to survive the Great Depression. After graduating from high school he attended Arkansas State Teacher's College (now University of Central Arkansas) on a basketball scholarship. In 1948 he left college to join the Air Force, ending his military career as a Tech. Sgt. serving as a cryptographic specialist with a high security clearance. In 1950 Eddie married Marion Suits. After her death, he married Lillian Brock. In 1977 he married Sheila (Van Orsdol) Dennis in Pasadena, California, where they lived for many years.
After his military service, Ed began a career in electronics. He was employed by WCG/GCI in media both part-time and full-time from 1967-1995. He also worked as the supervisor of broadcast engineers at Los Angeles City College. After retirement he learned to be a locksmith and worked part time for the Lake Kiowa Security Department.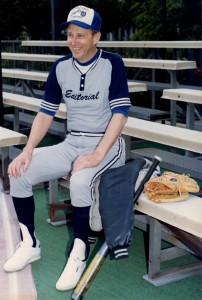 Eddie loved sports and played slow-pitch softball well into his 70s. He was known for his high, arching, but accurate, moon ball that few batters could hit. He played on the WCG Editorial Department softball team for several years (he is pictured at right). He said that with him pitching and Joseph Tkach catching, they made a pretty good team!
Ed was a man of faith. Baptized at age 17, he devotedly attended church throughout his life. At his death he was a member of GCI's Hope Community Fellowship Church in The Colony, Texas (Dallas area). In his 70s he made trips with groups from his church to help victims of Hurricane Katrina. At age 85 he joined other church members on a mission trip to Mexico to distribute gifts to disadvantaged children. He was a Meals on Wheels and Home Hospice volunteer and a member of the Gainesville Optimist Club. He was also a ham operator and Community Emergency Response Team (CERT) volunteer.
Ed is survived by his wife Sheila, several children, many grandchildren and great grandchildren. Both parents and three brothers preceded him in death. Five brothers and four sisters survive him.
A memorial service and celebration of Ed's life is scheduled for January 9 at his home church.
Cards may be sent to:
Sheila Graham
111 Pueblo Drive
Gainesville, TX 76240-9473