During the recent GCI-USA Regional Conference held last weekend in Dallas, Texas, GCI's Dallas-area congregations hosted a 60th anniversary celebration of the planting of the first WCG congregation in the Dallas metro area.

The celebration was introduced by the lead pastor of the Dallas central congregation, Gabriel Ojih (at left, above, with his wife Christine). Music was provided by a band led by Doc Gibbs (at right, above, with his wife Vera), an elder in the Dallas north congregation. Doc's band played during dinner and for a dance that followed (with western line-dancing, waltzes and everything in between). A highlight of the evening was to have one of the founding members of the original Dallas church present to help cut the anniversary cake.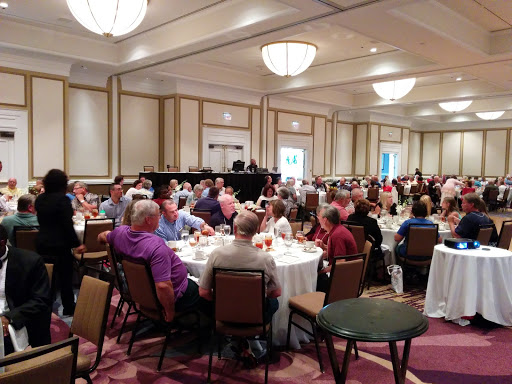 GCI President, Joseph Tkach, who was present for the event, made this comment:
Not only was being there a treat—I had the pleasure of meeting two former members who have started donating and were delighted with the regional conference. I also met a pastor and his father-in-law who came from Mexico to attend the regional conference. Raymundo (Ray) Rendon pastors a newly planted church in Nuevo Laredo, Mexico—the destination location for our GCI Crossing Borders missionary trips. Although Ray is not a GCI member, he had been invited to the conference as a guest of Lee Berger (Crossing Borders director). Ray told me that he loved the conference, enjoyed meeting our members, and was excited about all the resources GCI offers both onsite and online. Ray also received an additional blessing—on Monday after the conference, while in the hotel dining room, a well-dressed lady approached him and commented on the t-shirt he was wearing because it was similar to the name of her company. After inquiring about Ray's ministry, she proceeded to write to him a donation check to be used for his church work. I told Ray, "The blessings just keep on coming!"
Note: There is one more GCI-USA Regional Conference in the 2016 cycle. It will be held on August 5-7 in Orlando, Florida. For information and to register, click here (scroll down to "GCI events").