This update is from Christine Ojih whose husband Gabriel serves as lead pastor at Pathway of Grace Church (a GCI congregation in Dallas, Texas).
"I just hope it's not boring!" lamented 3rd-grader Amya when asked about her hopes for the summer by her Pathway of Grace Church Vacation Bible School (VBS) small group leader. In all, 50 individuals from the church and surrounding community participated in the VBS at this GCI congregation, in Mesquite, Texas. Twenty adult volunteers, including a Spanish-speaking staff member from the elementary school across the street, came together with 30 children and teens for five evenings in June to study how putting on Jesus, the full armor of God, helps us "stand strong against the devil's schemes" (Eph. 6:11).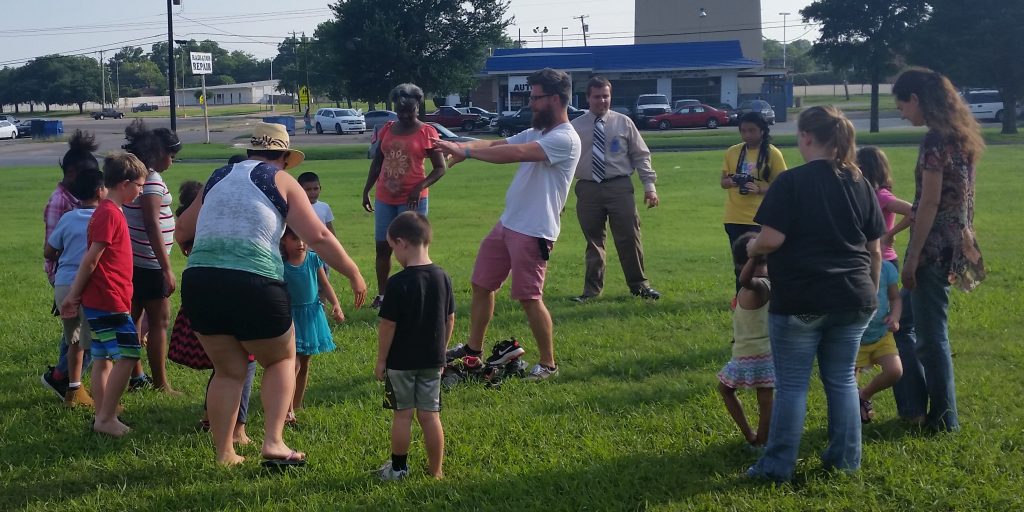 One parent from the community representing one of five new families who got involved at Pathway because of VBS said, "I don't know what you guys are doing here, but the kids love it!" Another new child shared, "My uncle has a lot of things planned for us kids this week but I'm missing it. I want to be at Bible school!"
Pathway's VBS was kicked off with a Saturday Community Family Fun Day where families were invited to bring their children to enjoy bounce houses, carnival games and face painting, along with slider burgers, popcorn and snow cones. At the Fun Day, children and teens were invited to register for the VBS.
Best of all, the fun didn't stop when VBS week was over.  Youth ministry team member, Teri Herrmann, who leads Pathway's school-aged children's ministry, took the lead to provide ongoing activities throughout the summer on Tuesdays and Thursdays. Kids have the opportunity to learn more about Jesus and how he is revealed to us through some well-known Bible stories while also enjoying crafts, games and meals together with the friends they made at VBS. Field trips to the skating rink, movie theater and Ranger's Ballpark offered a special opportunity to get out on the town to many children who might otherwise sit home and play video games or watch TV all summer.
Judging from her enthusiasm—showing up an hour before events start and not missing a single summer activity so far—it seems Amya's hope for a "non-boring" summer has been fulfilled. Likewise, Pathway of Grace's hope of demonstrating God's love that came near in Jesus to families in our community has also been fulfilled and a new hope has emerged—the hope that we can develop ways for even deeper, more meaningful and more consistent involvement with our young community members.