This update is from Gabriel Ojih who pastors Pathway of Grace, GCI's congregation in Mesquite, Texas (in the Dallas metro area).
Four of our senior-aged members are using part of their retirement time to benefit young people in their community by helping elementary school students who are challenged in reading (due to English being their second language and certain mental health issues).
Once a week for the past two school years, Leo Burnett, Dick Rutter, Mike Read and Jack Zvorak have been visiting the Larry G. Smith Elementary School, across the street from where our congregation meets. The time is spent reading one-on-one with individual students who need to improve their reading. The seniors patiently help with pronunciation and comprehension, encouraging and supporting them in their efforts to overcome their reading obstacles.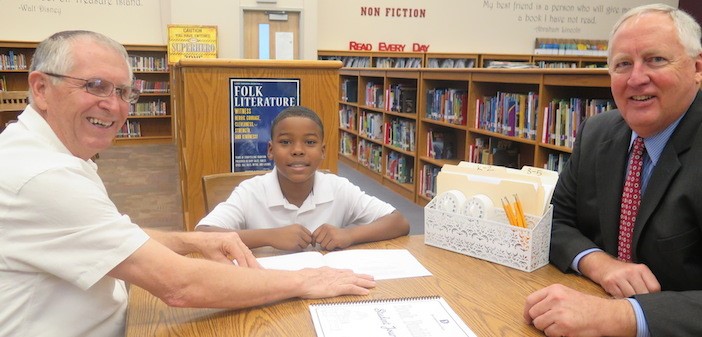 As Mike remarks, "It is also a wonderful opportunity to positively impact the lives of these young people—speaking love and encouragement into their lives."
The school sees Pathway's volunteers as an integral part of their Roaring Readers program. Recently, the program received a $1000 donation from the district's chief internal auditor. The school requested a representative from Pathway to be on hand as they received the donation and Leo was happy to oblige.