Dear Brothers and Sisters,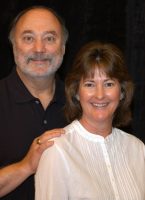 According to Holiday Insights, this week is National Karaoke Week. Perhaps you've heard someone singing karaoke and reflexively flinched at their off-key notes. Nietzsche had it right when he wrote, "We listen to music with our muscles." Our unconscious bodily responses to music include tapping our feet or swaying to the rhythm. I found myself doing both during the singing at the Easter-weekend conference of our Mexican churches in Guadalajara, Mexico. Because we were singing in Spanish, the music was particularly stirring for me. I was also moved by the wonderful Mariachi worship band with its two trumpets, five violins and four guitars of various sizes. One song began with a trumpet blast so rousing we all felt like marching forward!

Neurologist Oliver Sacks had it right when he wrote, "Listening to music is not just auditory, it is motoric as well." According to neurological studies, music has the ability to activate entire regions and networks within the brain. This is one reason music is used in several rehabilitative therapies. As the old saying goes, "Music has charms to soothe a savage breast, to soften rocks, or bend a knotted oak."
It's important to think about the impact that music has in our worship of God. We don't sing in church to just fill the time, or as a mere warm-up to the sermon. Worship music (instrumental and vocal) has played a significant role in the worship of the church down through the centuries. Music has been, is, and for eternity will be a principal way the people of God worship their Lord and Savior.
After escaping Egypt by crossing the Red Sea, the Israelites sang to the Lord (Exodus 15:1-21). Music was a central part of Israel's worship in the tabernacle and the temple (1 Chronicles 6:31-32, 16:42). The Psalms preserve lyrics to some of that music—some joyful, some sorrowful (blues is not only a modern musical genre!). Jesus and his disciples sang hymns (Matthew 26:30) and the book of Revelation tells of a day when "every creature in heaven and on earth and under the earth and on the sea, and all that is in them" will sing praises to the Lamb of God seated on his throne (Revelation 5:13). As Karl Barth noted, singing is an essential ministry of the church:
The Christian church sings. It is not a choral society. Its singing is not a concert. But from inner, material necessity it sings. Singing is the highest form of human expression…. What we can and must say quite confidently is that the church which does not sing is not the church. And where… it does not really sing but sighs and mumbles spasmodically, shamefacedly and with an ill grace, it can be at best only a troubled community which is not sure of its cause and of whose ministry and witness there can be no great expectation…. The praise of God which finds its concrete culmination in the singing of the community is one of the indispensable forms of the ministry of the church. (Church Dogmatics, IV.3, 16.72)
When we play instrumental music or sing in church, our audience is first the Lord (Psalm 96:1) then, secondarily, one another. Our singing seems best when it is expressive of a sense of awe and wonder at the presence of God. By directing our attention beyond the music itself to the One whom we worship, music leads our thoughts toward God rather than toward ourselves. John Calvin commented about the energy we obtain from music in worship when he wrote this:
[Music] lends dignity and grace to sacred actions and has the greatest value in kindling our heart to a true zeal and eagerness to pray. (Calvin, Institutes, III. 20, #32)
There is something very special that we feel when our hymns and choruses correlate with the biblical texts being verbalized in the Scripture reading and expounded in the sermon. It is as if our hearts are lifted, and we soar like eagles. That's how I felt in Guadalajara over Easter, and it's how I feel when I join the people of God in various places around the world as we lift our voices in song to worship the triune God, Father, Son and Spirit.
Holiday Insights also says that April 26 is Hug an Australian Day. So in the spirit of that holiday, I extend to all our Aussie members (and to all our members everywhere) this ancient priestly blessing:
The Lord bless you and keep you; the Lord make his face shine on you and be gracious to you; the Lord turn his face toward you and give you peace. (Numbers 6:24-26)
Joseph Tkach
PS: Warm greetings to you all from our members in Mexico! For more about the conference, click here.