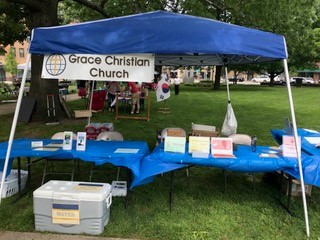 Grace Christian Church, GCI's congregation in Waltham, MA (Boston area), recently conducted a community-wide event called the Kaleidoscope Festival. According to GCI Pastor Dishon Mills, the congregation established and coordinated the event—determining its theme and theological foundation, designing its logo and other graphics, recruiting other event partners, securing donations for raffles, recruiting vendors, obtaining necessary city permits, recruiting and managing volunteers, setting up the space, and providing advertising. Dishon gave this report:
God has gifted our church to be multigenerational and multiethnic, and we wanted to share that with our community. We also heard from our community that many people were feeling our society was getting more and more divided. In particular, Waltham recently had a few ugly incidents as it adapts to its changing demographics. The Holy Spirit used all these things to guide us to create an event that would celebrate diversity and seek to heal man-made divisions. In addition to the joy that comes from participating in the work that Jesus is doing, our members got to build relationships with dozens of our neighbors. Since the event emphasized open conversation, we got to talk about the gospel in a relaxed, welcoming environment. We incentivized visiting the various community engagement tables, so most guests got to talk with someone who was different from them. Since God made us for relationship, this is part of what living and sharing the gospel means to us.

Police officer (at left) with Dishon Mills

One of our volunteers, who is currently homeless and having a lot of family problems, was beaming throughout the event because it made her feel seen and useful. Another volunteer, one of our members, had a 45-minute conversation with a man about Jesus. The conversation started with him saying he didn't believe in God and ended with him saying he wanted to visit our church. I had a wonderful conversation with a man who had negative experiences with religion. Interacting with us and being at the event made him want to hear more about our church. I will be having lunch with him soon. We had similar conversations throughout the festival. A captain in the Waltham police force told me that the city needs more events like this and he would be happy to be involved in the future.

Our church received a lot more visibility in the community as a result of this festival. As we continue to reach out, we believe we will become known as "the church that creates community." Though sharing the gospel is our primary goal, we feel that events like this will attract people to our congregation due to the relationships that are being formed.
Here is a video from the festival:
On YouTube at https://youtu.be/YD8czI8uPTA.