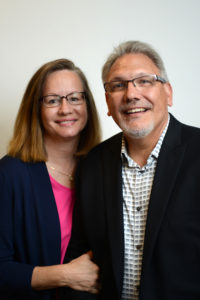 Dear GCI Family and Friends,
Can a parent ever forget their child? In the time of Isaiah, Israel's literal complaint was that God had forgotten and forsaken them in their Babylonian captivity. "But Zion said, 'The LORD has forsaken me; my Lord has forgotten me'" (Isa. 49:14). I love God's response: "Can a woman forget her nursing child, that she should have no compassion on the son of her womb? Even these may forget, yet I will not forget you" (Isa. 49:15).
This most tender and affectionate picture that God gave, describing his love for his people, is one most of us can relate to—the picture of a mother's love for her newborn child. After carrying a child in her womb for nine months, this new living creature, who is nourished and protected by her own body, is nursing at her breast. You can imagine the longing gaze shared between mother and baby. I can recall this very picture as I remember Susan with each of our three sons (doubly with twins Glenn and Garrett).
The wonder and sense of awe of mother to child are best expressed in the thoughts and response of Mary to her precious baby Jesus. The events of Luke chapter two are grander and greater than words can describe, but I shall give it a try.
At the birth of Jesus, in the humble setting of a stable, a visitation was made by shepherds who had been in the surrounding fields. They brought the tidings of good news—the Messiah had come. This was followed by a heavenly host of angels praising God and saying, "Glory to God in the highest heaven, and on earth peace to those on whom his favor rests" (Luke 2:14).
Can you imagine the conversation between the shepherds and Joseph and Mary as each of them recounted their encounters with angels? They confirmed that each of these angelic meetings and announcements was connected and pointed to the one truth—the incarnation of Jesus is real, and God truly is with us. Glory to God in the highest!
Then Luke 2:19 tells us: "But Mary treasured up all these things and pondered them in her heart." This became Mary's private meditation and her treasured storehouse of memories for her son Jesus. Isn't this what mothers do? Mothers relish the quiet moments with their dear babies; they remember all the details and intricacies, and they have an overflow of positive hope and promise for their dear child. This is the mother's heart.
Mother's Day is a special day that pays tribute to our mothers. Appropriately, it is celebrated in many countries around the world at different points during the year. In the United States and Canada, Mother's Day is held on the second Sunday in May (May 12th for 2019). In some other countries, such as Argentina and Ethiopia, mothering is celebrated in the autumn. No matter what specific day or season, let me echo GCI's deep love and appreciation for all mothers. We celebrate you for who you are and what you do to care for our precious children.
As beautiful a picture as a mother's love paints, please know that the love that Father, Son, and Spirit have for every human being far surpasses even that. You are beloved by the majestic God of the universe, so on this Mother's Day and every other day – "Be loved!"