Listen for His Lead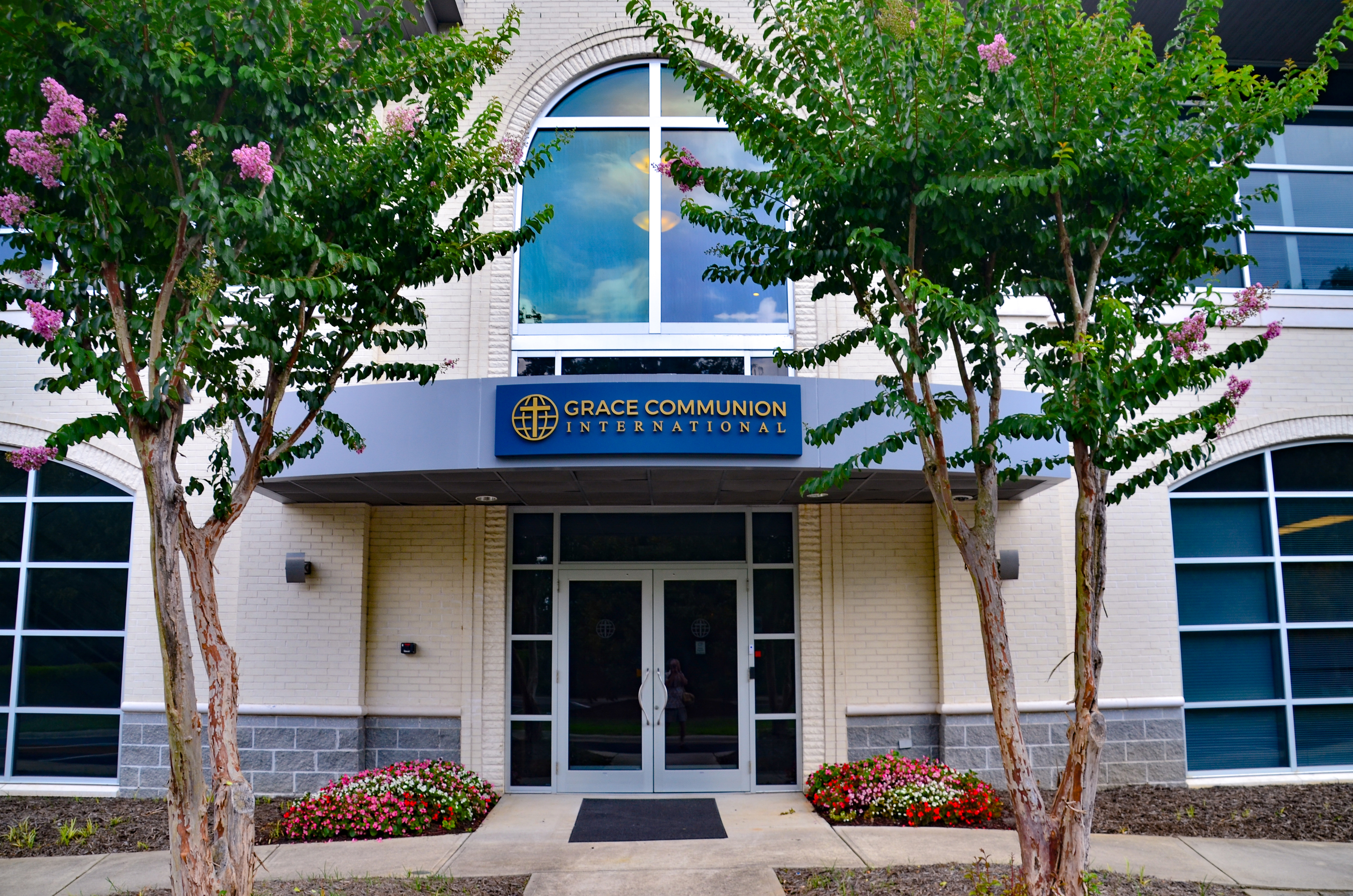 My experiences during the Home Office move to North Carolina reminded me of the amazing work of the Holy Spirit and the blessings of following his lead.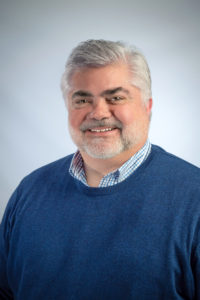 When the Board made the decision to move the GCI Home Office to Charlotte to be closer to more of our congregations, lower the cost of doing business, improve the quality of life for employees, etc., my job was to find a new office. This search was not successful immediately, and I found myself becoming impatient and asking God why this was not going as quickly or smoothly as anticipated. I felt that the Holy Spirit had led the Board to this decision and that he would provide a clear path to make it happen. The path ended up being clear, but it didn't happen the way I envisioned!
One of the sites first focused on was a beautiful vacant piece of land in an area that seemed well-suited for the office. It would have been a purchase/design/build project. The project was pursued with enthusiasm, and it seemed like the right path: a great fresh start with a building designed for our purposes in a great area. However, one of the sellers was very difficult to deal with and quite unreasonable at times. The progress was excruciatingly slow with much effort.
On a particularly lengthy and difficult negotiation with the seller, I was calling from a snowy parking lot outside a hospital in Montana where my dad was dying. The call was not going well, so I shut my ears for a moment, put aside my frustration and asked God silently if I was pursuing this against his will. For the remainder of that conversation, I found myself clearly led to exit this deal, which I did at the end of the call.
After hanging up, I felt an amazing sense of peace and appreciation for the nudging of the Spirit, even though the time to find another property was very limited. I thanked God for his patience with me, because looking back from a new perspective, it seemed more obvious that I was just pushing a rock uphill in pursuing this deal. It was not his will. Through some tears of frustration and relief in that cold parking lot, I asked for his lead in finding a more suitable location for the office and nicer people to deal with. To make a long story short, he answered that prayer!
Enter negotiation #2 – after giving up on the deal for the design/build project, we re-visited a building that appeared suitable but required a lot of foundation repair. The building was more affordable and the people were more reasonable to deal with. Negotiations were proceeding well but it just didn't feel right.
Soon, I felt strongly moved to visit a real estate website that I previously had checked regularly and was set to send me new property listings. I didn't expect to find anything new that day. However, the building that is now the Home Office showed up almost immediately. I shared it with the Board, and they were as excited as I was. President Greg Williams and I visited the facility and it felt like home from the beginning. It was already built; we closed the purchase on the facility in just over a month and the rest is history! The completed building cost less than the previous facility would have cost, was in a better location and the purchase closed easily within our planned moving schedule with limited effort. But God wasn't done yet!
Once the facility in California was sold, we had a hard deadline to vacate the property, but our facility in Charlotte was remodeled and ready to move in. Our IT Manager had purchased a house and moved to Charlotte to help facilitate the set-up of our IT infrastructure. The GCI moving team was on-site to receive two forty-foot long trailers full of records and office furnishings sent from California. After a very long day, we went to dinner to rest and celebrate this positive milestone. Everything was on schedule and we were happy.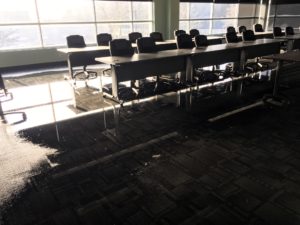 Not everything continued smoothly, however. I will never forget the call I received the next morning from the construction supervisor, John. He phoned me early and said, "I have some hard news for you, Mat. A pipe has burst at your new facility, and you need to come over right away!" I thought to myself, we can handle some water clean-up.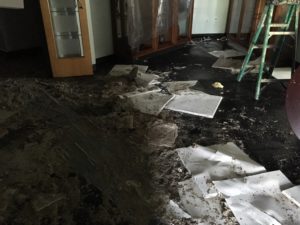 I was not prepared for what I saw upon arrival. I walked into the lobby of the building and started wading in water. All around me water was falling from the ceiling, and ceiling tiles were dropping into the water, plop, plop, plop! The water leak was on the second floor, flooding both floors with two inches of water! All the remodeling work was ruined, some of the records we moved in the previous day were destroyed, and wood furniture and doors had soaked up water and were starting to swell. We were devastated. All our hard work was for nothing, it seemed, and we didn't have time to fix it before employees arrived in just a few weeks. Through the lump in my throat, I wondered what God had in mind now. I knew he was there.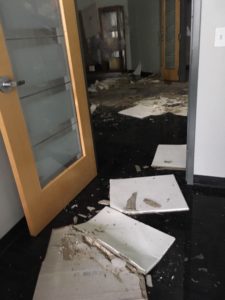 We were referred to Randy, the owner of a ServePro franchise, a water clean-up company, who had a close working relationship with another ServePro owner named Randy. Due to the size of the job, both companies had to tackle the cleanup. I firmly believe they were both God-sent. They are both wonderful Christian men who were well-organized and caring. Their teams were there that day, and the building was swarming with dozens of workers, green water vacuums, dehumidifiers and fans.
Before a reconstruction contract could be signed, they were cutting the newly painted and now very soggy drywall out of the building; the ceiling tiles, carpet, cabinetry, furniture, insulation and doors were put in huge green dumpsters and hauled away; damaged records and books were sent to a restoration company for repair; water-damaged computers that controlled the building HVAC and security systems were being dried out, and data restored where possible.
I am sure that God led us to these companies and to the construction company that started putting the building back together almost immediately. What seemed an impossible timeframe became possible through a construction supervisor named Brian. Although he was new to ServePro construction, and this was his first job with them, he led a team that restored the building in time to receive all the relocating employees, and remaining furniture and files. The only delay incurred was caused by the permitting department at the City of Charlotte. Brian is also a wonderful Christian man who had once had his home restored by ServePro. He knew what it was like to be on our side during this process, and it showed. Again, God was with us and ahead of us in this process. I firmly believe we were led to these people, companies and the artisans who walked with us through this reconstruction with skill and encouragement. I still consider some of them friends today.
The result of this event, which we thought was a disaster, was a remodeled Home Office from nearly floor to ceiling with new furnishings. All with limited expense to GCI, because the insurance claim was subrogated to the plumbing company, who was found responsible for the water leak. But God wasn't done yet!
When we purchased the Home Office facility, we also tried to buy the vacant lot next to the building through a local broker. Although we had the permanent right to use the driveway and parking lot for our new facility, part of the driveway and the parking lot was owned by someone else. We preferred to control any development or use of the adjacent property. The broker approached the owner with a reasonable offer on our behalf, but she refused to sell. We had accepted this reality.
Some months later, I felt moved to reach out to the owner of the adjacent lot and see if I could get to know her without pushing for a purchase—just building a relationship and getting to know her as a neighbor was my goal. I invited her to have a cup of tea and to take a tour of our building. She accepted, and we spent about an hour talking and discussing GCI's mission and plans.
Through the Holy Spirit's hand, by the end of that conversation, we had agreed on a deal for the lot. Instead of buying the lot at full price, she donated over two-thirds of its value to the Church and GCI paid the remainder. This donation was worth nearly a quarter of a million dollars. The Holy Spirit was way ahead of me, preparing the way and working through a person that I had not met before and who was of a different faith.
I was reminded through this process that God does his work, and we have the blessing of participating with him. He is not surprised by our circumstances nor short on love or resources. He is in front of us in every way. The latter part of the Great Commission passage in Matthew 28:16-20 means more to me daily. Jesus told his disciples that day, "Therefore go and make disciples of all nations, baptizing them in the name of the Father and of the Son and of the Holy Spirit, and teaching them to obey everything I have commanded you. And surely, I am with you always, to the very end of the age."
He is with us always. May we practice looking for his lead and join him in his perfect will, as we live, work and share the good news about Jesus.
Listening for his lead,
Mat Morgan