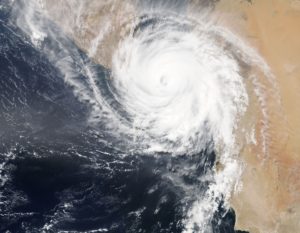 We have sent $10,000 for emergency needs, made available by generous donors, to help with disaster relief for members in The Bahamas and we are standing by for additional requests. We wish to express our sincere appreciation to the GCI congregations and members who have donated to the GCI Disaster Relief Fund, so together, we can assist those in need.
The following is an update from Charles Fleming, Mission Developer, on our members in The Bahamas, following the devastation of Hurricane Dorian.
I spoke with Robert McKinney, National Director for the Caribbean, this morning. He says there's a lot of work to be done in the months and years ahead but for now, all the GCI members who were evacuated from Marsh Harbor have been relocated to relatives in Nassau. Thank God, Nassau was largely untouched and so the majority of the population, as well as the economic heart of the country, is still in good shape. Nassau is now the base for relief and recovery efforts into the Abaco chain of islands. Robert mentioned that moving forward, it is probably best to send money instead of supplies. Of course, if you have already collected supplies please go ahead and send them by whatever method you have in mind.
In terms of long-term prayers, pray for wisdom for the government and blessings for the economy. Freeport and Marsh Harbour are the second and third major economic centers of the nation. They are hoping to rebuild in a way that is sustainable. Pray also for the relationship between the native Bahamian population and the large number of migrants from Haiti. There have long been tensions between the two communities, which this crisis seems to emphasize.
Here is Robert's update:
Tania, Gillian, Lydia and I have been working late into the night comforting evacuees as they disembarked planes coming out of Grand Bahama and Abaco. Officials are trying to get all Abaco residents off the island as soon as possible. The population was believed to have been around 20,000. I understand the plan is to burn everything that remains and start over, as the level of contamination is severe. The hurricane brought 185 m.p.h. winds, storm surge, and spin-off tornadoes.
Our members, who we thought were safe in Moores Island, were among the evacuees coming out of Marsh Harbour. Imagine how happy we were to see the eight of them make it here safely. They all came out with only the clothes on their backs and what little they could carry. The storm was horrendous, but every person who survived tells a story of God's grace and mercy. Recovery will no doubt take a few years, but most are determined to rebuild. Thanks again for all the prayers and support, and until next time, may God continue to be with you.
_____________________
GCI Disaster Relief Fund
If your congregation has a heart to help members impacted by major disasters like the one in The Bahamas, consider donating to the GCI Disaster Relief Fund. The Fund helps provide members in disaster areas with emergency needs such as food, water, medicine, clothing, temporary housing, home and/or church hall repairs, temporary local pastoral salary expenses and other emergency needs. Monies received into the Fund that are not immediately needed will remain in the Fund to be allocated in future disasters. In previous years, money from this Fund has been used to help members recover from Hurricane Katrina in New Orleans, storms and flooding in Bangladesh, an earthquake and tsunami in the Solomon Islands, typhoons in the Philippines and an earthquake in Haiti.
If your congregation would like to donate out of local church funds, you may do so at www.gci.org/go/chdonate
Individuals who wish to donate may do so at www.gci.org/disasterrelief
If your congregation prefers to send a check, make it out to Grace Communion International, indicating on the memo line that the donation is for the GCI Disaster Relief Fund. Send the donation to:
GCI Disaster Relief Fund
Grace Communion International
3120 Whitehall Park Dr.
Charlotte, NC 28273