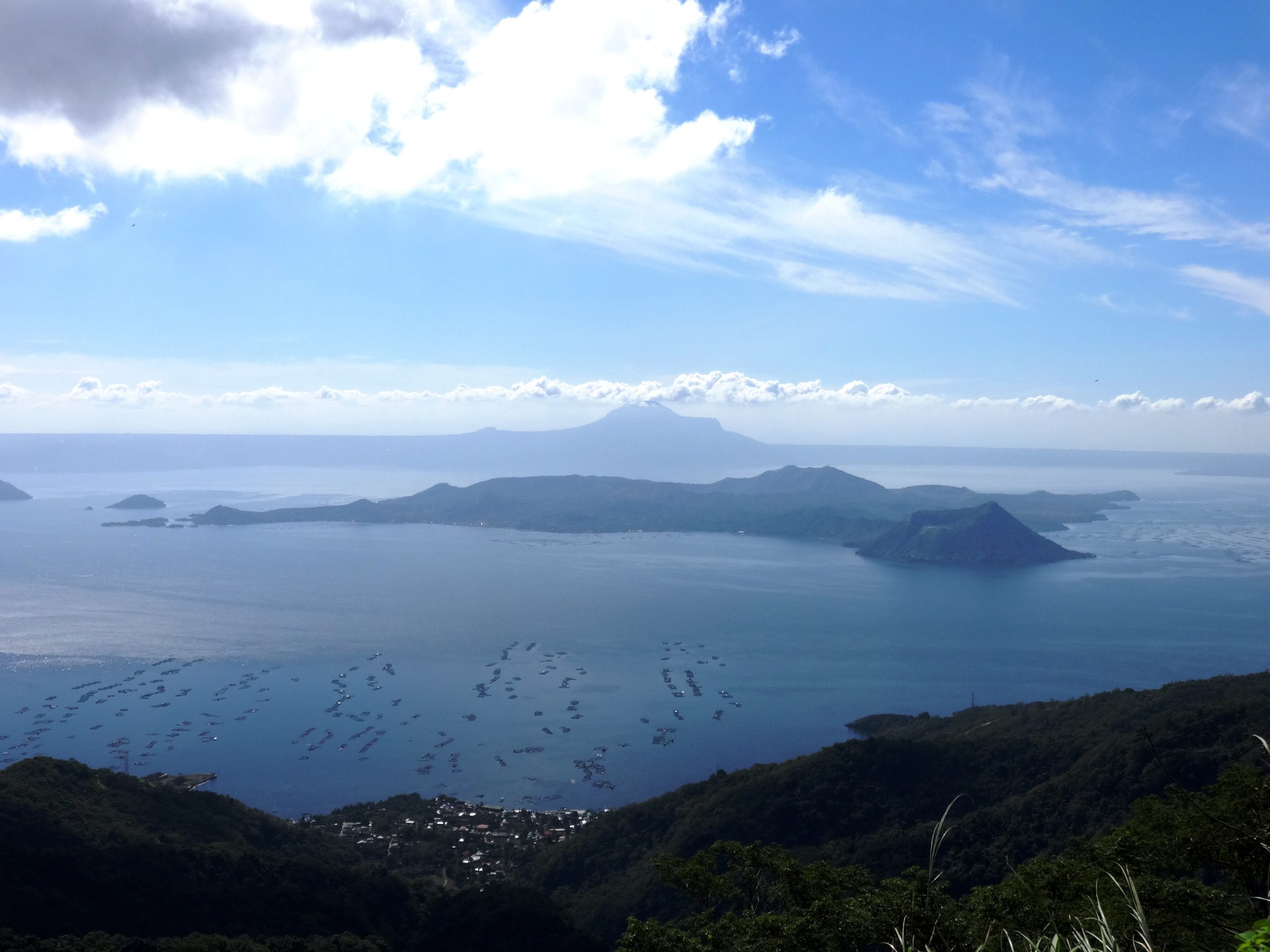 Some have asked about the status of the Taal Volcano eruption near Tagaytay City. Tagaytay is one of those favorite vacation and convention places near Manila, due to its cooler climate, its scenic view of the volcano and the lake around it. Many of our GCI leaders' conferences are held in Tagaytay City. After about 43 years of calm and occasional slight activity, Taal volcano suddenly erupted and has spewed thick volcanic ash thousands of meters to the sky.
Because of the north direction of the wind at that time, its huge amount of ashfall spread to a wide area affecting about 4 million students and about 4000 schools in the surrounding provinces including Metro Manila, affecting about P600 million pesos ( about US $ 12 million) to crops and so much more in terms of dislocations of thousands of people who now live in scores of evacuation centers, and business disruptions in the surrounding areas especially Tagaytay City. The spewing of the ashes also included lighting at the crater, and about 200 earthquakes since Monday, ranging from intensity 1.5 to 5, that have caused huge cracks on some houses and roads.
According to the Philippine Institute of Volcanology and Seismology, this is indicative that the volcano is preparing for a dangerous explosion that can devastate the surrounding areas. Due to this threat, the government has declared the whole province of Batangas in a state of calamity, and has advised people in areas within 14 kilometers to move to safer places.
We are coordinating with the pastors and some members in those areas. We have learned that there is one family in Talisay who had to evacuate to safer grounds in Santo Tomas, Batangas. Except for the messy roads and ashfalls in their houses, the members near Tagaytay are safe and hoping that the ash coming from the volcano will not lead to related respiratory and skin diseases. Nevertheless, here is an interesting update today from Pastor Pol Makahiya, one of the pastors in an adjacent city.
"Sir, I just had a courtesy call with the Mayor this morning and asked how we can serve the evacuees. I was referred to the command center. I talked with the head of the City Disaster Risk Reduction and Management Office (CDRRMO) and we were given access to the evacuation centers, especially the schools. At this time, there are about 7,000 individuals in 10 evacuation centers here in Santo Tomas, Batangas, and 6 of which are in the schools.
A few hours later, he sent another text. "I was able to preach to about 37 evacuees in 2 rooms. I am already exhausted. Sharp dust particles are widespread. I just arrived home, but so encouraging, because the people are so thirsty for God's word." He said tonight, January 15, that he will be back tomorrow, with one more servant leader to minister to those in the evacuation centers.
Please pray for the continued safety of the members and people who were traumatized and dislocated by this eruption. So much mess to clean up, and so many people and animals who need help. There is a great need for restoration. We also pray for safety and guidance upon our servant leaders reaching out in those areas like Pastor Pol. In the midst of this chaos, we also pray for God's word to bring comfort, healing, and even new life to those who will listen and believe.
Eugene Guzon,
GCI Philippines National Director and Asia Superintendent
_____________________
GCI Disaster Relief Fund
If your congregation has a heart to help members impacted by major disasters like the one in The Phillipines, consider donating to the GCI Disaster Relief Fund. The Fund helps provide members in disaster areas with emergency needs such as food, water, medicine, clothing, temporary housing, home and/or church hall repairs, temporary local pastoral salary expenses and other emergency needs. Monies received into the Fund that are not immediately needed will remain in the Fund to be allocated in future disasters. In previous years, money from this Fund has been used to help members recover from Hurricane Katrina in New Orleans, storms and flooding in Bangladesh, an earthquake and tsunami in the Solomon Islands, typhoons in the Philippines and an earthquake in Haiti.
If your congregation would like to donate out of local church funds, you may do so at www.gci.org/go/chdonate
Individuals who wish to donate may do so at www.gci.org/disasterrelief
If your congregation prefers to send a check, make it out to Grace Communion International, indicating on the memo line that the donation is for the GCI Disaster Relief Fund. Send the donation to:
GCI Disaster Relief Fund
Grace Communion International
3120 Whitehall Park Dr.
Charlotte, NC 28273