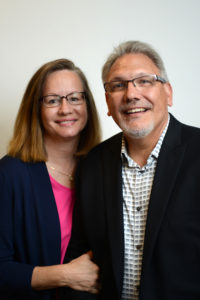 Dear GCI Family and Friends,
More than 100 years ago my great-grandparents on my mother's side of the family were founding members in Hendersonville First Baptist Church. Hendersonville is a touristy-type town with mom and pop shops and a strong population of retired people. Agriculture sits atop the economic sector, with apple production leading the way. (The Apple Festival over Labor Day weekend celebrates all that is Hendersonville.)
Not only was this a great place to grow up, it is also a great place to return to for periodic visits. Earlier this year I had the pleasure of attending a service at Hendersonville First Baptist. My mother attends this church, along with my younger brother and his family. My brother Mark is a deacon and his wife Penny is on the church staff.
What is the current state of the century-old Baptist church of my great-grandparents? The day Susan and I attended with my mom, we accompanied her to the 9:30 am service. (They have three services on Sunday morning – 8:00, 9:30 and 11:00.) First off, it was difficult to find a nearby parking space. Once we parked, we passed a steady stream of churchgoers coming out and going in. There were lots of smiling faces of young and old, and an astonishing number of families.
My mother struggles with aching knees, and to make life simpler, she sits in the back row of the sanctuary. She has a usual group of friends who sit with her. When Susan and I joined the merry band, I was sitting on the end seat next to the aisle. I knew who Pastor Steve was, but to my surprise, he was circulating through the sanctuary and he made a point to come over to me and shake my hand. My brother told me later that he has a keen eye for spotting new people and intentionally introducing himself. Instead of sitting on the front row and waiting to be called to the pulpit, Pastor Steve joins in with the ushers and makes himself available (what a novel approach).
I was wondering what the worship and preaching would look like. Traditionally, Baptist churches sing mostly hymns, and they are known for their fiery sermons warning about the perils of hell. To my surprise there was a mix of contemporary songs and some people were even raising their hands in worship. The sermon was outstanding. Pastor Steve preached grace with a posture of humility, and there was no bait and switch (grace for salvation, but now on to the requirements to live the Christian life).
What were the signs of Healthy Church at Hendersonville First Baptist?
Offering multiple services and having a pastor who is dedicated to preaching three times each Sunday is remarkable.
The blend of young and old, and the core group of multiple generational families is a sign of endurance. My mother and brother's involvement marks four generations of membership.
Providing a service that is worshipful—especially when it is done week in and out. This is a defining factor of Healthy Church.
A pastor who is outgoing and welcoming, and who consistently preaches the grace of a loving, personal God. Our GCI ministry model is defined as "Team-Based, Pastor-Led," and while this expresses the need for the pastor to engage, equip and empower others to join Jesus in ministry, the role of the pastor still sets the tone for the congregation. Pastor Steve is a wonderful example.
In our quest to be the best expression of church that we can be, we need to be attentive to establishing stronger roots within a neighborhood/community. We also need to practice patience, because establishing those roots takes time, but will never happen unless we first identify the neighborhood where we fit, and we then roll up our sleeves and begin loving and serving that neighborhood. As we continue to give attention to the Hope Avenue of ministry, we need to constantly evaluate how welcoming we are, how worshipful our services are, and how clear is our grace-based preaching and posture. What will a new person experience when they visit our church service?
What will the story of our church be in 100 years when our great-grandchildren assemble to worship? I say thank you to my great-grandparents, Walter and Essie Garrett, for being part of a church that is still vibrant today.
Keeping the Faith!
Greg Williams