I asked Pastor Mauricio, of Tegucigalpa, Honduras, to share some photos and details of the condition of our church members in La Democracia, San Pedro Sula. Here is the translated message. – Heber
---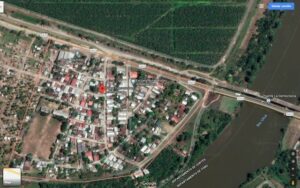 As you have asked, I will share some data and photographs of our congregation on the north coast of Honduras, provided by Pastor Marco Antonio Mejía. As additional information, Honduras has 8.5 million inhabitants, of which approximately 3 million people were affected, including members of the Church.
Location: Colonia la Democracia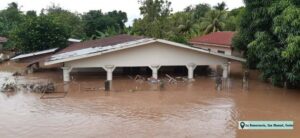 Colonia la Democracia is located approximately 30 km from the city of San Pedro Sula, on the banks of the Ulúa River. It is located in the municipality of San Manuel, Cortes, and borders the city of El Progreso, Yoro.
The population is approximately 1300 to 1800 people.
It is presently flooded by hurricanes ETA and IOTA. Its inhabitants are in temporary shelters or in the homes of relatives.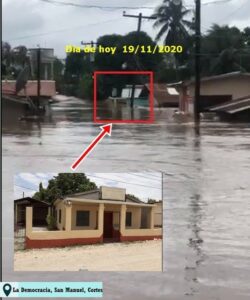 The church building has been operating since 1998. The church is made up of about 15 families, in addition to the families of the children and youth who attend the congregation, making an average of about 75 people, including adults, children, and youth.
Here are some photos of the situation where the church was located.
Mauricio
---
I spoke to pastor Marco this morning and it's finally drying up and folks are beginning to assess the damage. The church building seemed to have sustained a lot of damage.
Blessings,
Heber Ticas
Superintendent of Latin America
_____________________
GCI Disaster Relief Fund
If your congregation is sharing the gospel about Jesus in the one square mile around your church, and still has available funds, and a heart to help members impacted by major disasters like the one in Honduras, one of the best ways to do so is to donate to the GCI Disaster Relief Fund. The Fund helps provide members in disaster areas with emergency needs such as food, water, medicine, clothing, temporary housing, home and/or church hall repairs, temporary local pastoral salary expenses and other emergency needs. Monies received into the Fund that are not immediately needed will remain in the Fund to be allocated in future disasters. In previous years, money from this Fund has been used to help members recover from Hurricane Katrina in New Orleans, storms and flooding in Bangladesh, an earthquake and tsunami in the Solomon Islands, typhoons in the Philippines and an earthquake in Haiti.
If your congregation would like to donate to the Fund, you can set up a one-time donation through GCI Online Giving (https://www.gci.org/online-giving/) by selecting Give for Disaster Relief under the drop-down menu.
If your congregation prefers to send a check, make it out to Grace Communion International, indicating on the memo line that the donation is for the GCI Disaster Relief Fund. Send the donation to:
GCI Disaster Relief Fund
Grace Communion International
3120 Whitehall Park Dr.
Charlotte, NC 28273