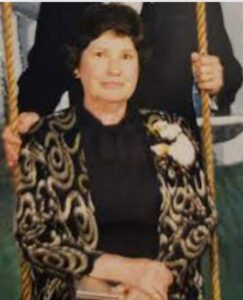 Freia Ann Smith of Shady Grove, Texas passed away at her home on January 12, 2022. She was born October 31, 1932, in Celeste, Texas to James and Louise Friddle. In 1954 she married the love of her life Paul B. Smith, and they shared sixty-two years together before his death in 2017.
Mrs. Smith was a founding member of the Big Sandy congregation in 1953, and she worked for many years as Church Secretary. She was known for her positive and caring nature. She never met a stranger and was always willing to do what she could for others. She loved to dance, play board games, and spend time with her family.
She remains in the fond memories of her friends and her family which includes her three children: David Nathaniel Smith and Marla Smith of Pasadena, California; Benjamin Ralph Smith and Lore Smith of Billings, Montana; Loma Ann Gibson of Big Sandy, Texas; her grandchildren Nathan Smith, Allison Smith, Dustie Pierce, and Shelby Smith, great-grandson Tatum Smith, and numerous nieces and nephews.
It is a great comfort that throughout her life she was loved and accepted fully and completely by God and lived her life sharing that love with other people. She is resting in the peace and joy of His presence.
Mrs. Smith's service will be held at the Big Sandy high school auditorium at 401 North Wildcat Drive, Big Sandy on Saturday morning, April 16 at 10:30 a.m.
Cards may be sent to her daughter who was her caregiver for the last several years:
Loma Gibson
PO Box 1206
Big Sandy, TX 75755