Sandy is the mother of Update editor, Elizabeth Mullins, and mother-in-law to regional director Anthony Mullins.
---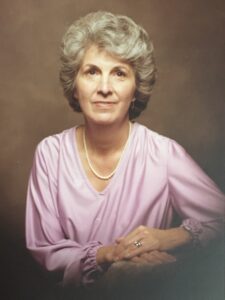 At the age of 84, Sandra "Sandy" Suzette Mayfield died resting in the finished work of Jesus Christ. Sandy was born on June 12, 1938, in Clendenin, WV. She received her Bachelor of Education from Fairmont State University and loved being a teacher. She taught elementary school in Washington DC, Miami, FL, Cincinnati, OH, and Huntington, WV. She began attending our denomination in 1973.
Sandy is survived by her beloved husband of 58 years, Jim Mayfield of Winfield, WV, and her daughters, Emma Lee (Paul David) Kurts and Elizabeth (Anthony) Mullins of NC. Her four grandchildren in NC are Sarah (Trevor) McGuire, LeeAnna Gill, James Kurts, and Michael (Ashleigh) Kurts, and her great-granddaughter is Riley McGuire.
She adored her family, sharing meals and playing board games with them. She preferred to be outdoors, gardening (vegetable and ornamental) and birdwatching. She loved her pets, reading, and puzzles. She was one-of-kind, truly ornery, and "anything but vanilla" (as she always said about ice cream.)
Sandy is hidden in Christ, which is precisely why her life mattered and why she will be fiercely missed.