Tracey was a retired pastor, who served in Jacksonville, Florida. On August 26, 2022, at the age of 86, he died in Colorado. The following was written by Pastor Marty Davey, who served with Tracey.
---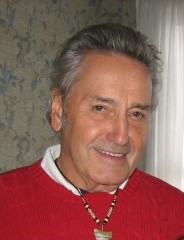 Our dear brother and faithful GCI minister, Tracey Rogers, recently passed. Tracey and his wife, Judi, moved from Jacksonville about 4 years ago to live near their daughter and family in Colorado. He and Judi have been living of late in a very nice, assisted living facility together.
Tracey's family held a memorial service for him in Colorado. They plan to bring his ashes to Florida in the future, to scatter them where he loved his life and precious wife, whom he met on the beach in Jacksonville.
Tracey passed, having completed his pilgrimage and sojourn in this mortal life. As was so eloquently said in Acts 7, we join with Tracey in saying with him, "Lord Jesus, receive my spirit."
Well done, Tracey – you have been a good and faithful servant!
Cards may be sent to:
Judi Rogers
c/o Morningstar Assisted Living & Memory Care
575 Tantra Drive
Boulder, CO 80395