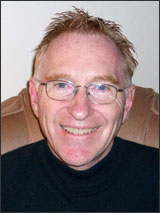 We are saddened to announce the death of Dennis Lawrence, a GCI pastor in Montreal Canada. The following announcement is from Dennis' wife, Lynn Lawrence:
To all our wonderful church family across Canada and the world,
It is with great sadness that I share with you that my husband, Dennis Lawrence, lost his battle with cancer on Wednesday evening, December 7. Although Dennis' health had been declining slowly, he was home and reasonably independent up until the Wednesday before his death; even attending a pastors' meeting of churches in the area we have our services in Montreal. The change between Wednesday and Thursday was dramatic and he entered a hospice center on Friday. During the last few days of his life Dennis was surrounded almost continually by his whole immediate family, including my mother and his sister, and we were able to be there with him as he drew his last breath.
It would be impossible to summarize the last 37 years in ministry, but I know he loved it, and all the people he had the privilege of working with and for. He loved the people God gave him the chance to serve.
It is also impossible to adequately express our appreciation for not only the thousands of you who prayed for him, but also the hundreds that took the time to tell us, some repeatedly, that you were praying regularly for Dennis' healing and peace. All that prayer and love held us up often during his 20-month illness. Please share with your churches how very much we appreciated all the cards, letters and facebook/email messages of love and encouragement. Dennis will be greatly missed by all of us, I know.
-Lynn
Note: you can send Lynn notes of condolence by using the "add a comment" feature below, by emailing them to lynnegbert@yahoo.com, or by sending them to:
Lynn Lawrence 211 De L'ile Blvd Pincourt, PQ J7V 3R6 CANADA