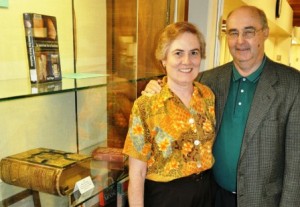 On November 1 GCI Pastor Neil Earle and his wife Susan were invited to set up a "400 Years of the King James Version" display at the Duarte, California Public Library.
The display features two large impressive Bibles. One, a family Bible dated 1898, is on loan from Phyllis and Russell Duke. A 1770 German Bible is on loan from Susie Albrecht. Other items on display are on loan from Joseph Tkach and Curtis May.
Many gratifying comments have been received, pictures taken for the local newspaper, and the library requested that the display be left a while longer. Now, officials from the Duarte Museum are making space available to set up the display there as a temporary exhibit.