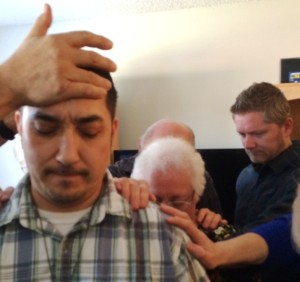 We are pleased to announce that Daniel Espinoza was ordained an elder and installed as pastor of the GCI congregation in Colorado Springs, Colorado on January 19. The ordination prayer is shown at right.
This special service was led by Mark McCulley, senior pastor of GCI's Denver, North church and former pastor of the Colorado Springs congregation (Mark is standing at the center of the back row in the picture below. Daniel is second from left).
Several of Daniel's family and friends attended the special service. Members of the congregation (where Daniel has grown up) have warmly embraced his pastoral leadership.
Congratulations to both Daniel and his Colorado Springs congregation. It's wonderful to see the passing of the baton of leadership to the younger generation.