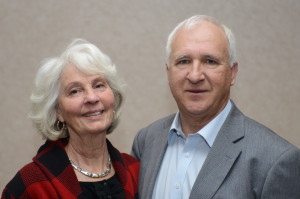 Pastor Roger Abels recently retired after more than 40 years of GCI employment in pastoral ministry. Together with his wife Donna, Roger has pastored many GCI congregations, most recently in Fort Wayne, Indiana, and Kalamazoo, Michigan. The Fort Wayne congregation hosted a celebration service honoring Roger and Donna on June 1. Pastor Jim Valekis from Ohio gave the sermon and Pastor Stephen Hill from Illinois led worship.
Roger has been replaced in the Fort Wayne church by Pastor David Howe who, with his wife Ann, also serves as senior pastor in the GCI congregation in Elkhart, Indiana.
Our thanks and congratulations to Roger and Donna and to David and Ann!