Dear Brothers and Sisters in Christ,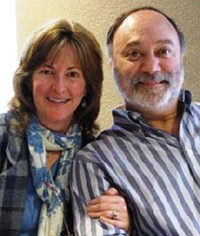 I've often heard worship leaders begin a service by declaring, "God is good," to which the congregation replies, "all the time." "And all the time," the leader continues, to which the audience replies, "God is good." This statement about God is, of course, true. Most Christians believe it fervently. But many, in the privacy of their own thoughts, wonder, "If God truly is good, why is there so much pain in the world?" It's difficult to reconcile belief in God's goodness with the presence of pain in the world, even if we believe that, in the end, our good Creator gives the kingdom of heaven as the ultimate solution to pain.
Though I can't address all aspects of this challenging topic in one letter, here is some food for thought.
First, we note that evil, the opposite of God's goodness and source of much of the pain in the world, originates with Satan, "the father of lies" (John 8:44). As the deceiver and destroyer, Satan is vehemently opposed to God and likes to get others to join with him—we see his tactics at work in the Garden of Eden where Satan led humankind into sin, resulting in the fall. Today, Satan continues to sow the seeds of deceit and distrust toward God because he knows the only way for us to escape evil is to respond to God's love toward us in Jesus through the Spirit. The good news is that Satan is a defeated foe. Jesus, the Victor, conquered Satan and thus the evil he brings (Colossians 2:15). But in accordance with God's good plan for humankind, Satan's influence continues for a time.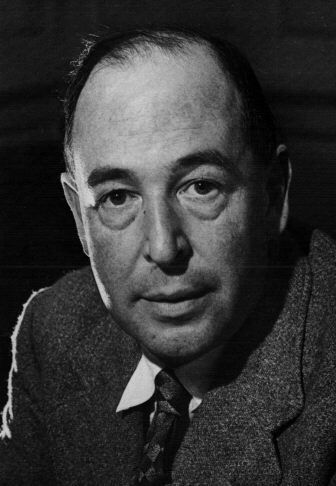 Not understanding this reality, people often frame the problem of pain with questions that lead to false conclusions. For example, an agnostic might ask, "What was God doing during the Holocaust of World War II—was he taking a coffee break?" Or, "If God is all-knowing and all-powerful, why does he allow suffering to continue—and at seemingly higher levels of repetition?" In his book The Problem of Pain, C.S. Lewis frames the agnostic objection this way:
If God were good, he would wish to make his creatures perfectly happy, and if God were almighty he would be able to do what he wished. But the creatures are not happy. Therefore God lacks either goodness, or power, or both.
In addressing this objection, Lewis shines the light of Christ on the problem of pain. He does so out of his own personal encounter with Christ during times of suffering in which he came to understand that there is much more to the story than often realized. He learned that God is not finished with us—he has a good plan for humankind, one that makes place for pain in ways that ultimately bring forth good, not evil. Lewis addressed that plan in one of the most-often quoted passages in the book: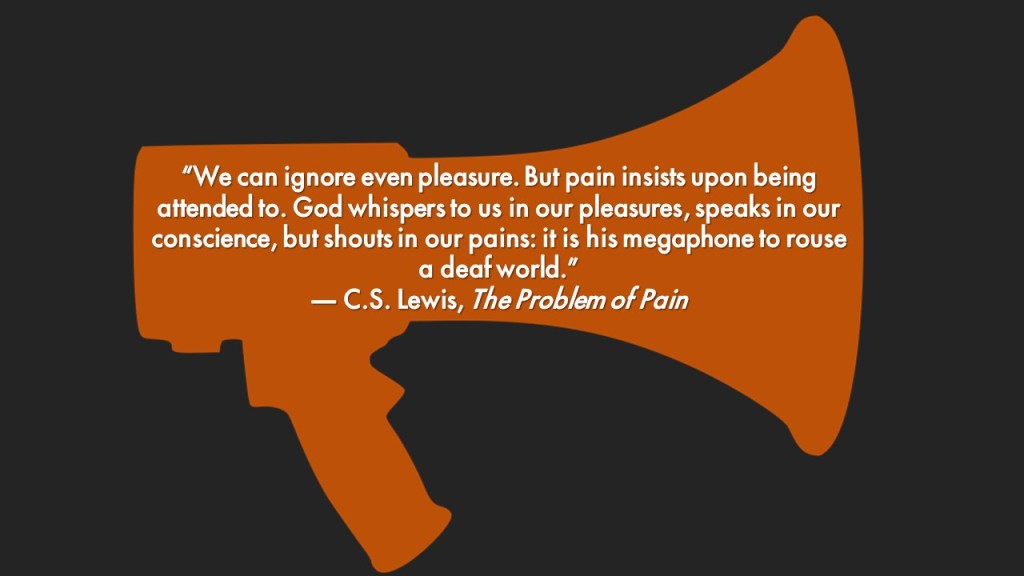 Lewis knew that making things right in the world requires far more than magic or fairy dust; far more than making people into mindless puppets. Instead, it requires transformation of our very natures and our relationship with God. God needs to get our attention to accomplish in us the deep and lasting good that he desires for all his creation.
Sadly, some misunderstand God's love to be nothing more than a cosmic kindness that would never allow pain. But we face pain because of God's love, because of his ultimate plan for us—to live in relationship with him, sharing in the communion of the Father, Son and Spirit. The truth is that God is conforming us to the image of Jesus—a transformation that involves pain as we let go of ourselves, of making ourselves the center of everything, and of insisting on having things our way, and so coming to see his way is good and leads to life. So first we need to see that the love and goodness of God are more than an escape from suffering any pain.
We must also recognize that pain is not totally evil. Pain is helpful in that it is a built-in warning system that something is wrong. If living things did not have pain, they would have a difficult time surviving. Pain teaches us that we are not self-sufficient, and that we cannot always do things our way. Pain stops us from hurting ourselves further. We learn through experience that pain can be positive as well as negative.
When I go to the dentist and he numbs my mouth to do a root canal, I feel the pain of the numbing shot. But I am grateful because the minor pain I feel from the shot is not comparable to the pain I would feel if he did the root canal without the shot. The minor pain saves me from far greater pain. Moreover, I am then reminded (warned) if I eat anything shortly after the root canal, I need to chew carefully, because with all that numbness, I could chew my tongue up in the process.
Pain is real, but to think of all pain as evil completely misses the point of pain. Pain gets our attention. It opens our eyes to a reality we may be missing. It can motivate us to look at our relationship with God and ask if we are moving closer to him or farther away. Pain often helps prevent further pain. It can get us to look beyond the present and see what we need to do to stop the pain from becoming worse. Knowing that God is good, we can surmise that God's definition of goodness includes human pain. Recognizing this helps us to see that the existence of pain in the world is not a credible argument for the non-existence or non-beneficence of God.
Pain often occurs because of wrong choices and wrong behavior. Sometimes (perhaps often) those choices are made by others and are beyond our control. But the purpose is still the same: pain opens our minds to see a new reality we might be missing. Our way does not work. Life without God is not the answer. Life without love is not the answer. God is continually getting us to focus on the answer—Jesus and his way. Jesus suffered and went through pain for us in order to help us look past the pain and toward him. The author of Hebrews put it like this; "Because he himself suffered when he was tempted, he is able to help those who are being tempted" (Hebrews 2:18).
Of course, Satan tries to keep people from responding to God's love. One of his tactics is to lead people into believing that pain in the world is caused by the only one who can remove it. When we are tempted to ask, "Where is God?" we do well to remember that God, being omnipresent, is always with us when we are in pain. Note these words from the apostle Peter: "Dear friends, do not be surprised at the fiery ordeal that has come on you to test you, as though something strange were happening to you. But rejoice inasmuch as you participate in the sufferings of Christ, so that you may be overjoyed when his glory is revealed" (1 Peter 4:12-13). And note these words from the apostle Paul: "Praise be to the God and Father of our Lord Jesus Christ, the Father of compassion and the God of all comfort, who comforts us in all our troubles, so that we can comfort those in any trouble with the comfort we ourselves receive from God. For just as we share abundantly in the sufferings of Christ, so also our comfort abounds through Christ" (2 Corinthians 1:3-5).
Jesus said his sacrifice would set us free—free from guilt and shame; free from fear and anxiety; and ultimately free from tears and pain. Our faith and prayer has an impact on our quality of life. In the midst of our most difficult times, we can be assured that our pain is not pointless. We can trust that God has a great purpose for our suffering. Pain isn't pleasant, but its purpose is always to get us to look to God. He promises a time when there will be no more pain and suffering (Revelation 21:4), when evil is entirely eradicated and all things are made new.
Trusting God's greater purpose,
Joseph Tkach
P.S. October is clergy appreciation month in the U.S. Though all of us at the GCI office in Glendora are grateful for our pastors every month and day of the year, we extend special thanks this month (click on the link under "announcements," above left).