This update is from Lee Berger, the director of Generations Ministries' Crossing Borders mission.
In December we conducted our 18th trip to Mexico in nine years. When we began this mission several years ago, three or four churches donated about 150 shoeboxes full of gifts for needy children. This time 12 churches donated over 750 shoeboxes. Many other churches supported the mission with prayer.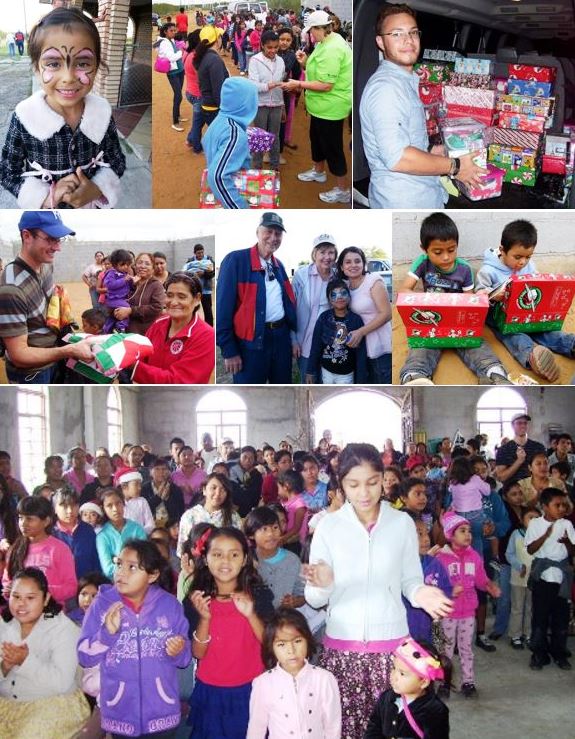 Thirty-five people participated in the mission trip this time. They represented eight U.S. states as well as Monterrey and Guadalajara, Mexico. On previous trips we had about 12-15 people. More missionaries equals more person-to-person interaction with the people we serve. It also means that the mission experience and mindset is taken back home to more churches and communities, spreading the attitude of "being on mission wherever you are"—in your own family, school, with friends and neighbors, in the workplace, with strangers. Jesus is at work everywhere and invites us to join him on mission!
God also brought more people than ever for us to minister to on this trip. At two stops we expected to find about 75-100 people. But the buildings were packed with over 200! We shared God's love through singing, preaching, sharing food, talking and laughing. We also presented a skit about Jesus' birth and distributed the shoebox gifts to all the children and totes full of infant supplies (including beautiful handmade baby quilts) to the mothers of babies.
On this trip we also visited two children's homes, spending several hours jumping rope, face-painting, treating them to pizza, listening, laughing and hugging. I wish you could have seen the radiant faces of the children as they excitedly greeted us on arrival and soaked up the love we shared with them (see the pictures above). When they opened their shoeboxes and unpacked the simple gifts, their appreciation was amazing to see.
Muchas gracias to all who supported this trip. Our next one into Mexico is planned for June 20-28, 2015. For details, go to our website at www.cbmission.org or call me at (903) 746-4463.