A Renewal Church cohort that includes 18 pastors and ministry leaders from the U.S. Western Region met recently at GCI's home office in Glendora, California. The group meets regularly to sharpen its outreach ministries by receiving training in methods for connecting with and discipling unchurched people.
During the meeting, encouraging stories were shared concerning steps forward in these important aspects of being disciple-making churches. GCI Church Multiplication Ministries (CMM) national coordinator Heber Ticas (standing in the picture below), provided training on the topics of small groups, ministry shift (changing ministry paradigms), and other important aspects of disciple-making ministry. The cohort was challenged regarding ways to change the culture within their congregations to be more fully-aligned with the incarnational, community-oriented nature of Jesus' ongoing ministry to the world.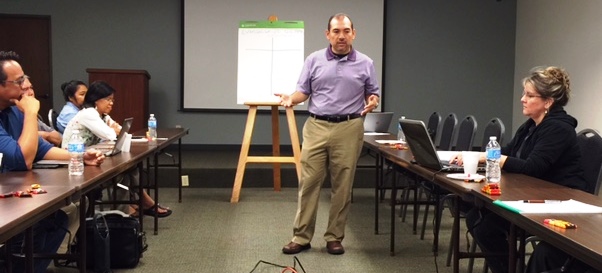 Since Christians fellowship by eating together, the group shared a wonderful lunch that provided time for relationship-building.