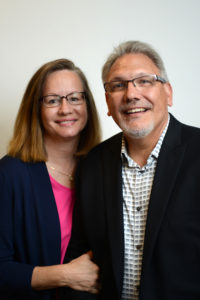 A recent Christianity Today article stated that "Sixty percent of Protestant churches in America average less than 100 people in weekly worship." And the abundance of small churches is growing. I found encouragement in this that we are not alone in this trend, and I believe we should take heart that this similar pattern in GCI is commonplace among the body of Christ.
Small is not automatically indicative of bad or unhealthy. Yet when a church is small, it is easy to become fixated on growth strategies. How do we get new people through the door? How will we fill the seats? Will there be people to contribute to the offering basket? The downside of this thinking is that we start thinking about people as projects, and not as beloved children of God who are made in his image.
Because Jesus Christ is the center of our theological understanding, we understand that all humans are under his spilled blood. And because atonement has been made for all people, we cannot look at anybody outside of that atoning blood. This core understanding not only prevents us from devaluing people, but it also prevents us from approaching evangelism as a growth strategy.
In GCI, evangelism is relational and invitational. Relational evangelism teaches us that people matter, that building chemistry, and trust is hugely important, and that as believers we are to be prepared to give an answer of our hope when the conversations turn toward God. That's when invitational comes to play. Once a relationship is built, then we invite them to join us in worship. Regardless of their initial response, we continue the relationship.
At a recent US Regional Celebration, I watched how the Spirit guided the speakers as each of them made presentations about how they are connecting with the neighbors around their church buildings. One presenter discerned that the word engage was better than outreach. Outreach sounds as if we are extending ourselves to help others who are somehow less than us, and it can subliminally make us treat them as a project rather than as a person created in God's image. Another presenter said, "We want to be in face-to-face relationships with our neighbors." I liked the movement toward deeper, personal connections.
We've also come to learn that beyond our individual efforts, the church must work together corporately through active engagement with the neighborhoods where we meet, and develop an annual rhythm of activities that allow us to invite new people in (see the Equipper articles in April, May and June on the Love Venue).
I hope you have noticed that our GCI leaders around the world are working diligently to help your church be healthy, vibrant, and effective at the size it is right now. Being healthy, vibrant, and effective is what allows us to be the light on the hill that radiates Christ's love and truth.
In the sermon on the mount, Jesus said
"You are the light of the world. A city built on a hill cannot be hidden. No one after lighting a lamp puts it under the bushel basket, but on the lampstand, and it gives light to all in the house." (Matthew 5:14-15).
It is within our movement toward health, vibrancy, and effectiveness that we glorify our Heavenly Father and more readily represent the light who is Jesus.
The Lord is not surprised by the condition of the church that Christianity Today documents. And Jesus, the Head of the church, continues to work through his church no matter how large or small. It is simply our calling to actively participate with him in the opportunities he provides and allow his light to shine through us, and we trust him to add to the church daily as it pleases him.
May your church shine brightly in your little corner of the world!
Loving our small, but far-reaching denomination,
Greg Williams