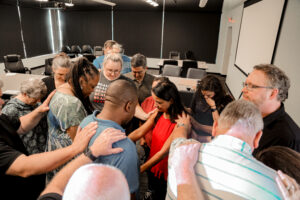 Please join me in congratulating Elizabeth Mullins on her promotion to Publications Coordinator. Elizabeth was hired in January 2022 in the role of Publications Assistant. Throughout the year she has contributed to the Media Editing Teams and taken on the role of GCI Update Editor, championing stories of how the Spirit is moving in and through GCI. The change in role takes Elizabeth from part time to full time employee.
On September 12, we also acknowledged her ministry in GCI and ordained Elizabeth as an elder in service to the denomination. Anyone who knows Elizabeth knows her love for Jesus and his bride. Her foundational voices are Creative and Guardian, which equip her to see into the future and pursue excellence for the church, while also honoring the legacy and protecting the integrity of the organization. She brings refinement to GCI Media content through her creative ideas and editorial skills. She also embodies the GCI core value of inclusivity, seeking for accessibility and representation in all our content. Through her role in the Home Office, her ministry will continue to make an impact across our fellowship through our publications and other content.
Read her Employee Profile here.
Michelle Fleming
GCI Communications Director