Dear Brothers and Sisters in Christ,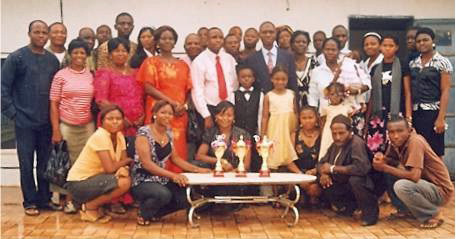 A combined Life Club meeting was held on October 24 at the Hilton Castle Hotel, Mbaise, Nigeria. Three Clubs took part: Mbaise, Port Harcourt, and Owerri. A normal Club programme was the format. Mr. Meschack Igbineweka was the Chairperson. Mrs. C.C. Kanu of Mbaise Life Club was awarded the Best Achievement Cup while Master Victor George and Mrs. Mercy George of Port Harcourt Life Club won the Best Contribution Cup and the Best Speaker Cup respectively. Members requested for similar meetings to be held more than once a year.

The Great Baddow Life Club met on December 5. The Club opened with Proverbs 25:11, which says our speech should be "fitly spoken."Speakers were Len Maylin, Chiemeka Ozumba, David Plumley and Seb Woolford. The Chairperson, Jonathan Luxton, presented David Plumley with the Best Speaker Cup (which contained a Mars bar!).The Director, Tony Goudie, said that "the Club is an opportunity to serve each other."
The Luton Church held their second Life Club on December 5. Speakers were Daria Fowler, Duncan McLean, Julie Robas, and Margaret Woolston. The Club concluded with some encouraging words from Harry Sullivan, Tina Sullivan, and Angela Kiernander.
The dates for the U.K. SEP 2010 are July 24 to August 7. (More details from admin@sepuk.org.)
---
Marriage Enrichment as Outreach Ministry in Colombia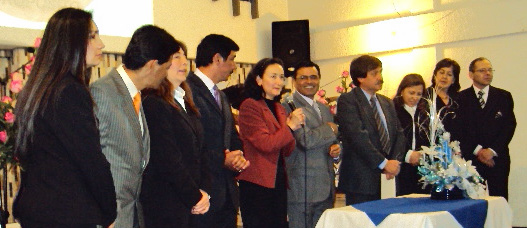 Thirteen couples out of 17 that took the class on how to better your marriage, graduated December 12 in a ceremony at our church hall in Bogota.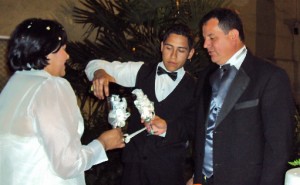 Most of the couples gave their testimony on how the class helped them improve their marriages. All of them said they had been very happy with the class. We had six small groups led by trained leaders and their wives. These leaders, Paulina and I included, are planning to invite more couples for the four-month class.
One of the most impressive testimonies came from, who divorced 13 years ago after 18 years of marriage. Clara never stopped praying for her husband, and some months before the class, they had started dating again. A couple introduced them to Paulina and me, and we invited them to take the class. Nestor and Clara enjoyed each class every week so much that we were inspired to see their marriage flourish. They were married again in a ceremony December 11 with the presence of their four children, four grandchildren and other relatives. During the ceremony, Nestor asked all his relatives to forgive him for all the past suffering and distress that he had caused because he had been the reason of the divorce with Clara. But now that he had accepted Jesus, he wanted to start a new life with his family. It certainly was a very moving moment.
---
Herman Hoeh Community Center
The Herman L. Hoeh community center in Bangladesh has been fully functional for over a year and is proving to be of great value to people in the surrounding villages. As the building is on the flat lands near the sea coast, it was intended to be both a place of refuge during a tsunami, and as a cyclone shelter. On a day-to-day basis, it acts as our free medical clinic and community center. It has already been well tested during recent cyclones and saved many lives. The center was named in memory of Dr. Hoeh because of his help and encouragement to both to the evangelistic efforts of BEA, and other developing countries and to John Biswas and others in the world mission field. As you can see from the photos, it has three levels and a flat roof, which is also used as a place of safety when needed. The cost of construction was partly covered by many small donations, but mainly by two of Pastor Rand Holm's congregations, West Valley and Port Hueneme. We are presently raising funds for the needs of the clinic, which is the only medical facility for many miles serving a huge population in the many surrounding villages. People say this building is a fitting tribute to Herman Hoeh's life's work.
---
Looking for a summer camp?
Generations Ministries is pleased to announce that in 2010 there will be 17 camps and short-term mission trips in the United States. A list of GenMin 2010 camps and events is found at http://genmin.wcg.org/calendar.htm. The list includes links to the websites of individual camps and events.
---
Prayer Requests and Updates
We are saddened to report that after a battle with a rare form of sarcoma, Carol Norman, wife of elder and former Ambassador University professor Gil Norman, passed away at home in Medford, Oregon, surrounded by her family on December 22. Carol's memorial service will be held Friday, January 8, at 3:00 p.m. at Memory Gardens Mortuary and Memorial Park, 1395 Arnold Lane, Medford, OR 97501. For more information about the service, contact Memory Gardens at 541-773-7338. Following the memorial service, there will be a celebration of Carol's life at Ashland Elks Lodge #944, 255 East Main Street, Ashland, Oregon 97520.
The family asks that in lieu of flowers, please consider sending donations to The Knight Cancer Institute at Oregon Health & Science University (www.ohsucancer.com), The American Cancer Society (www.cancer.org), or The Look Good…Feel Better program (www.lookgoodfeelbetter.org). For those who would like to send flowers for the memorial service, please call Memory Gardens at the phone number above.
Cards can be sent to:
Gil Norman, Rochelle Norman-Capo & Renee Norman-Martin
4601 South Pacific Hwy, Unit 53
Phoenix, OR 97535
Remember that prayer is the battleground where we fight the good fight of faith. Let's encourage everyone to join together in prayer, for we belong to Christ, and by the Spirit it is in Christ that we pray. Prayer and other spiritual activities help keep our hearts in tune with God and remind us of who we are in Christ. He is our all in all, and in him we are eternally beloved of the Father and blessed to share his good news with others.
Love from my family to yours,
Joseph Tkach
---
.