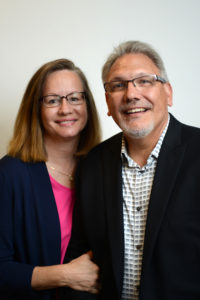 Dear GCI Family and Friends,
Martin Luther promoted the idea that every Christian believer is a priest regardless of his or her full-time occupation. He likely based this on the writings of Peter and Jude and from which comes the phrase, the "priesthood of all believers." Ministry is for all of us. Therefore, if you are a Christian you are a priest.
Notice Peter's words, "But you are a chosen race, a royal priesthood, a holy nation, God's own people, in order that you may proclaim the mighty acts of him who called you out of darkness into his marvelous light" (1 Peter 2:9 NRSV).
We are all priests in that we join Jesus and participate with him in his active ministry to the world around us. As active participants with Jesus, we each play different roles as we are uniquely gifted. For example, not all Christians are called to preach or lead, yet we are all called to serve according to our giftedness. Notice what Paul says to the Christians in Rome.
For just as each of us has one body with many members, and these members do not all have the same function, so in Christ, we, though many, form one body, and each member belongs to all the others. We have different gifts, according to the grace given to each of us. If your gift is prophesying, then prophesy in accordance with your faith; if it is serving, then serve; if it is teaching, then teach; if it is to encourage, then give encouragement; if it is giving, then give generously; if it is to lead, do it diligently; if it is to show mercy, do it cheerfully. (Romans 12:4-8 NIV)
God calls you to use your gift diligently and cheerfully. There is incredible joy in Christian service, and it is even greater when we experience this together in community.
You have probably noticed that we in GCI have been teaching and practicing "team-based" ministry. We believe we are better together. I recently heard Scott Ridout, President of Converge, make the statement, "Team will out think, out produce, and out live the individual leader." That statement is confirmation of what we've been up to in GCI.
Our Media Team has produced some outstanding tools to help us better understand the concepts of team-based ministry. In the Team-Based Pastor-Led Prezi presentation, there is a slide that provides a macro view. At first view it may look like the solar system, and with further examination you see how multiple ministries flow out from the foundational venues of Faith, Hope and Love. This slide is only a basic beginning of what ministries could exist within the life of the church, and we encourage the local church to expand the expressions of ministry based on the unique giftedness of their members and the opportunities their context makes possible.
Our Lord has made you with a unique mix of spiritual gifts. When you add those gifts to the gifts of others in your fellowship group or congregation, much can be done. We can always do more together than we can in isolation because this is how God planned it. In his first letter to the Corinthians the apostle Paul makes it clear that the Holy Spirit distributes the gifts and that Jesus is Lord over the church. The church is a body made up of many parts, and God has placed us within the body as he wills. All of this is for a common good, that the Triune God gets the glory and that the church is built up.
In our divine participation, we are also called to participate with one another. So, brothers and sisters, I encourage you to diligently and cheerfully take your place in the body and together, we can all take another step forward into Healthy Church.
Joining all GCI priests,
Greg Williams