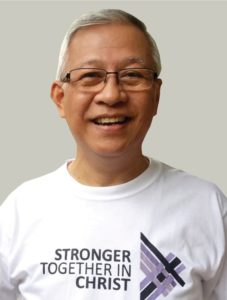 With a heavy heart, we must announce Pastor Valentin "Len" Joson has gone home to be with the Lord fully. He died of a heart attack while going through some medical procedures in the hospital on Wednesday, June 3. Pastor Len was ordained a local elder on April 2, 1988, and has served in different capacities, first as a ministerial trainee in Pampanga, and then pastored churches in the Northern Luzon area. He was also asked to serve as pastor for several churches in Mindanao, after which he served as an area superintendent for many years.
Len assisted significantly in helping leaders understand Incarnational Trinitarian theology through his teaching and by cofounding the Trinitarian Forum. When he retired in 2010, he continued his media ministry until the day before he died.
Pastor Len is a big blessing to many of us, and his death is a huge loss to Grace Communion International in the Philippines. Those days he pastored churches, and times we spent together, visiting churches and training leaders are remembered with fondness, due to his humble and willing servant spirit, and his passion to teach. His legacy remains as an inspiration and a call to live a meaningful life in Jesus. He is a dear brother in Christ, and will certainly be missed by all of us. Thank you, church family, for your love and prayers even while he was in the hospital and more so now, as the family mourns.
Grieving with you all,
Eugene Guzon
Cards may be sent to Len's widow, Jojie, at:
Ms. Jojie F Joson
119 Bel Air Drive, Laguna Bel Air 1,
Brgy. Don Jose, Sta Rosa, Laguna 4026
Philippines