Below is a prayer update for Pastor Santiago Lange in Stuttgart, Germany. In April, we asked for prayer for his diagnosis of advanced colon cancer.
---
Dear Friends,
I am writing to you after receiving my fifth Chemo/Anti-body treatment on June 28. After the sixth treatment on July 12, there will be a CT scan to help determine the effectiveness of the therapy. And the next therapy steps will be determined with my oncologist on July 25.
The chemo/anti-body therapies pack a heavy punch, with side effects like skin rashes with water blisters, mouth sores and dryness, pain, weight loss, and weakness. I am glad to be able to share that my [pressure] wounds continue to heal nicely. After some losses I have been able to gain weight, but I would joyfully welcome another 13-16 kg.
I am every day deeply thankful for your partnering support as our family goes through this health crisis. I pray that the Lord may bless your kindness a hundredfold.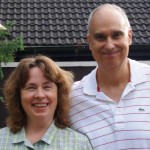 Every blessing, Santiago
Notes may be sent to:
Santiago Lange
Birkenweg 13
55490 Gemünden
Germany